<![if !supportEmptyParas]> <![if !supportEmptyParas]> <![endif]>
Permission to copy is granted provided that credit is given to "W6VIO Calling."
Contents
No Word Yet on Amateur Restructuring
Calendar of Events
| | |
| --- | --- |
| October 9 | [Fontana Swap Meet, A. B. Miller HS, Fontana} |
| October 13 | General Meeting, Noon - 238-543 |
| October 16 | [CMRA Hamfest, Cal Poly, Pomona, 7 AM] |
| October 27 | Board Meeting, Noon - 233-305J |
| October 30 | [TRW Swap meet, Redondo Beach] |
| November 10 | General Meeting, Noon - 238-543 |
| November 13 | [Fontana Swap Meet, A. B. Miller HS, Fontana} |
| November 20 | [CMRA Hamfest, Cal Poly, Pomona, 7 AM] |
| November 24 | Board Meeting, Noon - 233-305J |
| November 27 | [TRW Swap meet, Redondo Beach] |
Meeting Notice
The next regular JPL Amateur Radio Club will be held on Wednesday, October 13, at noon in Building 238 Room 543.  The Club Board of Directors meetings are held at noon on the fourth Wednesday of each month in 233-305J.  Everyone is welcome at both meetings; bring your lunch.  n
Prez' Mix
By Bob Dengler, NO6B
Sorry for last month's absence of this column from the newsletter.  It was just one of those months where I needed a break.
By the time this goes to press, both the JPL Family Day and ARRL Southwestern Division Convention will be history.  It's too bad that the two events sort of conflict with each other as Saturday is usually the biggest day for the convention.  I chose to attend the JPL Family Day, as that's where the free food was!
I expect the new crystals for our 440 MHz repeater to arrive by the end of this week, so the 447.65 repeater will be going off the air around that time.  It will probably take a week or so to retune the radio and interface it to the new controller.  Then the system will be reinstalled at Cerro Negro on its new frequency of 445.20 MHz.  The PL frequency will remain at 103.5 Hz.  After this task is complete, we will then work on moving the 224.08 system to Cerro Negro as well so that we can link the 220 and 440 systems, provide autopatch service on our 440 system, and make the Table Mountain link available on the 440 system.
Be sure to attend our next general meeting on Wednesday, October 13 at 12 noon in 238-543, especially if you currently use or would like to use the club autopatch.  We are going to discuss the possibility of ending the separate membership categories of autopatch and non-autopatch member, which would give all club members access to the autopatch.  Since this can probably be done without raising membership dues (at least for the first year), I think it would be a smart move.  You may normally never use an autopatch, but you never know when an emergency may develop when nobody is listening to the radio, and the only way to get help might be via an autopatch.  We don't have a separate field day, HF or packet membership, so why have autopatch membership?  73  n
September Club Meetings
By Jonathan Cameron, KF6RTA
GENERAL MEETING, September 8
Bob Dengler (NO6B) opened the meeting at 12:12 PM.  Those present were: Bob Dengler (NO6B), Warren Dowler (KE6LEA), Randy Hammock (KC6HUR), Dayton Jones (K6DJ), Walter Mushagian (K6DNS), Scott Nolte (N6CUV), John Norris (KE6QEZ), Bob Polansky (N6ET), Bob Stiver (KF6PSS), Mike Tope (W4EF), and Jonathan Cameron (KF6RTA).
BOB POLANSKY - HF/Miscellaneous Operations: 
Bob reported that the 40-meter beam for the mesa has been mostly built.  There will be a work party in the next few weeks to put up the new 40-m beam.  The club expects to get a bit more funds from Eric Fuller each year ($4K), some of which will be earmarked for video equipment.  We need to talk with Eric Fuller to see what type of video equipment is desired and whether some fast-scan frame transmission system (like the new Kenwood radio still-image transmission system).
We need to support the Y2K activities planned here at the lab.  We will need to cover approximately 27 hours ending several hours after the Y2k event.  We will assist with connectivity around the lab and with other NASA centers (via HF).  We need to field adequate personnel and we need to start recruiting soon.  Facilities will supply a 6KW generator for the Y2K test.
WALT MUSHAGIAN - Emergency Communications:
The 12:00 Noon Monday emergency net has been operating successfully recently.  Don't forget to check in on the Monday emergency net!
SCOTT NOLTE – Membership:
We have seven new members. The membership database is now current and we will work on a mailing to verify member information.
Bob Dengler led a discussion on autopatch membership and dues. The autopatch account is low and there are a couple of options to deal with it:
<![if !supportLists]>· <![endif]>Resolve to charge autopatch members a fixed fee every year, or
<![if !supportLists]>· <![endif]>Merge autopatch privileges with regular club membership.  This would increase club dues by a small amount.  This would also require a change in the club charter and bylaws and the autopatch agreement.
Upcoming changes in the repeater configuration will make the autopatch available on 440 MHz.  Roughly 60-70% of current members are also autopatch members.
The discussion led to the following conclusions:  At the next BOD meeting, Bob Dengler will propose that we collect yearly dues of $3 for autopatch members.  This will not take effect until next year.  For the rest of this year, new members will probably provide sufficient funding.  If it gets tight, we may do a mid-year assessment or ask for donations.  We will also pursue the process of integrating autopatch into the regular membership.  This will require looking at necessary changes to bylaws, how to accommodate ERC rules, etc.
Bob Dengler says we will get a different 440 MHz frequency from SCRRBA.  We also may want to give up one of the 220 MHz frequencies for coordination of the TMO link repeater.
Bob informed us that the 445.45 MHz frequency shared by the CalTech repeater and Bob Dengler's own repeater have been changed.  The Caltech repeater is now on 445.44 MHz while Dengler's repeater has moved to 445.46 MHz.
Bob Dengler also reported that the September 30 visit by Riley Hollingsworth was scrubbed due to schedule conflicts.
BOARD OF DIRECTORS MEETING, September 22
No business was conducted due to the lack of a quorum.  n
High Speed Packet Station Status
By Eric Archer, N6CV
Well friends, here we are again.  We continue to make progress on the HS packet station build out.  So far, we've had several Friday lunch work parties.  JPLARC members Jon Adams (NW6H), Jim Szeto (KC6WIK), Gerry Walsh (KB6OOC), Chris Carson (KE6ABQ), Jim Lux (W6RMK), Phil Smith (WB6LQP), Jerry Person (KK6TS) and Randy Hammock (KC6HUR) have come by at least once or twice to help do something towards making the HS packet station a reality. 
These Friday lunch parties are open to all interested parties (am I being multiply redundant . . .?). 
Jim Szeto recently installed a copy of Red Hat Linux on our Sparc Sun station: we now have a general-purpose mail and web server (Check it out: http://marconi.ampr.org).  Jim is also looking for an additional 64 MB of RAM for the Sparc 20 (let Jim know if you have some). 
So far, Jon Adams and Bill Wood (W6FXJ) have volunteered to take on the task of setting up a web page for our HS packet station.  Please send Jon and Bill your thoughts on what we should include on the page.  Jim Szeto is now taking orders for e-mail addresses: send him your request if you want an e-mail address (your_callsign@marconi.ampr.org). 
We are in the installation and testing stage of the 115 Kbps radios that we have taken possession of.  Jim Lux is troubleshooting the RS-232/RS-422 interface (Physical layer) between the Club's Cisco router and the radios while I'm setting up the Point-to-Point Protocol (PPP) that we will use to maintain the link layer.  The Cisco router will handle the Network Layer and general Internet access using the standard Internet Protocol (IP). 
<![if !supportEmptyParas]> <![endif]>
Eric, N6CV, and Jim Lux, rear, W6RMK, setting up the Cisco Router
Other activities include the 9.6 Kbps UHF node: Gerry Walsh is configuring and troubleshooting this radio.  It seems we have a receiver problem that Gerry is looking into.  Chris Carson is configuring a general purpose 486/133 PC for general Internet access from the station.  Bill Wood sent a 2 GB Hard Disk for the Sparc Server that we need to install; Bill also has offered the use of a surplus tape drive.  Phil Smith found us some surplus chairs that fit nice in the station, along with a recent donation of some tools. 
<![if !supportEmptyParas]> <![endif]>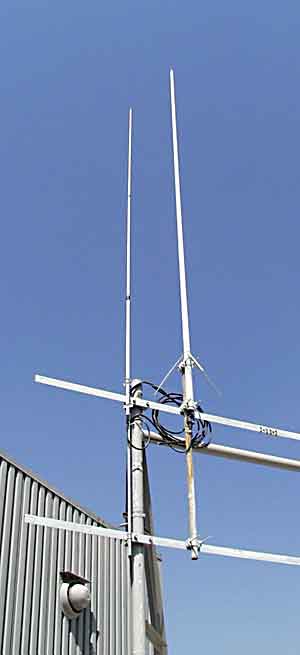 Comet 2-meter/440 and 2-m Celwave Super Stationmaster Antennas
Many thanks to those who have helped.  As you can see, there are many ongoing activities and even more planned activities.  It is my intent to make this station a world-class amateur radio digital communications station that is the best.
For some of the future activities, here's the short list:
<![if !supportLists]>· <![endif]>APRS internet gateway
<![if !supportLists]>· <![endif]>PacSat internet gateway
<![if !supportLists]>· <![endif]>HF Pactor/PSK internet gateway
<![if !supportLists]>· <![endif]>HS Wireless Internet Access for fixed/portable/mobile users
<![if !supportLists]>· <![endif]>General Purpose Satellite DX Station (Oscar Class)
<![if !supportLists]>· <![endif]>Six Meter DX Station (Gotta have six meters somewhere...)
<![if !supportLists]>· <![endif]>HS Packet Internet Gateway (1.2, 9.6, 56, 115 Kbps and up)
· Spread Spectrum (SS) Experimental Station (900/2400 MHz)
· HS Meteor Scatter CW Station (HSMSCW)
· Advanced Mode Beacon Station (HSMSCW, SS, HF-PSK, etc)
· DX Cluster Node (maybe...)
<![if !supportLists]>· <![endif]>Web Camera (Still planned with Steve-NJ6J)
One issue that has come up that the club should think about is the naming convention of our servers and gateways.  Traditionally, we've named our gateways with the club callsign or JPL.  We previously had names like JPL-GW.W6VIO.AMPR.ORG and so on.  These names reflected both the function (gateway) and the organization (JPL, W6VIO).  In installing our Sparc station mail/web server, I gave it the name MARCONI.ampr.org in honor of the first real pioneer of radio.   I'd like to instigate a discussion on the merits of either approach.  What do you think? I'd like to hear your comments.  We can continue in the "traditional" method of naming (JPL-GW, W6JPL.ampr.org, etc) or we can do something different such as giving names that honor historical radio and electronics pioneers (Faraday, Hertz, Maxwell, etc).  Send an e-mail to me at N6CV@marconi.ampr.org and let me know your thoughts (please: no flaming or soapbox dissertations...).
In the near future, we'll plan a club meeting tour of the station so that those who have never been to the station can get a look.  Feel free to visit the station; it's open to all club members.  The activities are only limited by our imagination (well, time too).
So, it seems that there is a modicum of interest in the "new" HS packet station.  Well. . . YEEEEHAAAW.  I'm glad to see some new interest in amateur radio activities at JPL.  The past several weeks have shown a good turnout at the Friday noon work parties.  The recent activation of the HS packet station web/mail server has generated even more interest.   Judging by the attendance on Fridays and the e-mail traffic, I can see a long-term interest developing here.  Please, all interested parties are encouraged to participate and help push the envelope of high-speed digital communications at the JPLARC.
73 Eric N6CV n
25 Years Ago in:
By Bill Wood, W6FXJ
The October 1974 issue was packed with articles and information.  W6EJJ provided details on the expected launch of AMSAT-Oscar 7 from Vandenberg AFB on October 29.  Jay also reported the club had received a donated Collins 75A1 receiver together with a Central Electronics Sideband Slicer and would be used initially in the W6VIO Novice position.
Treasurer Merrill Burnett, K6BER, reported the sad news that ARRL dues are going up from $7.50 to a princely $9.00 a year.  (That compared to $34 a year now!)
Editor Elmer MacMillen congratulated the TRW Amateur Radio Club after they managed to convince the FCC to change their club call from WB6WPO to W6TRW!  Elmer bemoaned the fact that W6JPL was unavailable!
Nash Williams, W6HCD, was sidelined with a mild heart attack.  The club BOD appointed Norm Chalfin, K6PGX acting Vice President to fill out Mickey Mecke's term after he was also taken out of service with a heart attack earlier in the year.
Check out the club newsletter archive.  The full October 1974 issue can be accessed at the following Internet address: http://www.jplerc.org/radio/calling/1974/oct/oct74.html<![if !supportNestedAnchors]><![endif]>   ¾
Classified Section
Wanted:
A 1.2GHz Band Unit for a Kenwood TM-742A.  Contact Bill Westphal at 213-633-3121 or wb6ypf@pacbell.net
Your want-ad or article for inclusion in a future issue of W6VIO Calling.  Submit to Bill Wood, W6FXJ, 31094 Hemlock Ave, Barstow, CA 92311; or email w6fxj@earthlink.net
For Sale:
QST 1990-1994 CD-ROM set, new.  $25 (ARRL price $39.95) Skip, W7NWY, 818-354-9674
US Tower (MA40) 40 foot tubular telescoping tower, hinged base, 2 co-ax arms, mast extension, Hy-gain Explorer-14 beam antenna with 40 meter dipole add-on, and Hy-Gain antenna rotator (Ham IV).  Original cost, less tax, was over $2200.  Sell all for $800.  Contact Ron Zenone (W6TUZ) at (626) 914-5585.   
Icom UT-40 Tone Squelch Option Board (CTCSS) for HT models 2GAT, 4GAT, 12GAT, 32AT or for mobiles 228, 448, 901, 1201, 2400 and 2500.  Cost: $80 (AES Catalog)  Sale for $40.  Radio Shack, Rotor/Controller and Cable, 3 years old, never used, have box/papers, like new. Cost: $70+  Sale for $50.  Scott Nolte, N6CUV 818-354-9724n
ARRL News
No Word Yet On Amateur Restructuring
Via ARRL Letter Online, Volume 18, Number 35
An FCC staff member says the Commission staff is "diligently working" towards getting a Report and Order on Amateur Radio license restructuring out the door.  But beyond that, the FCC staffer--who did not want to be identified by name--said it was impossible to predict when that would happen.  Rumors aside, the FCC official said that Commission rules prevent "revealing any information about internal thinking or scheduling" on the restructuring question. 
The proceeding--known formally as the 1998 Biennial Regulatory Review of Part 97 (WT Docket 98-143)--must jump through a number of hoops within the FCC bureaucracy.  The FCC's move last spring into consolidated offices at The Portals also disrupted routine workflow. 
A year ago, the FCC proposed phasing out the Novice and Technician Plus licenses, leaving just four amateur license classes in place--Technician, General, Advanced, and Extra.  The Commission also asked the amateur community to express its opinions on Morse code requirements, but offered no specific recommendations of its own. 
The previous month, the ARRL Board of Directors issued its own plan to restyle Amateur Radio.  Among other details, the ARRL plan also called for four license classes and for "refarming" Novice/Tech Plus subbands to provide additional spectrum for higher-class operators.  Under the League plan, the Technician license would remain unchanged, and the General would become the entry-level ticket for those interested in HF operation.  The ARRL proposed Morse code requirements of 5 WPM for General and 12 WPM for Advanced and Extra class. 
"We are simply in that period of time when no information is available," the FCC staff member said.  "This is a normal part of the Commission's quasi-judicial decision-making process and a necessary part of being objective and fair to all."
The FCC staff member said that although comments and reply comments are in--some 2200 comments were filed in the proceeding, mostly by individual amateurs--more late-filed ones continue to turn up.  He said the FCC staff "is working on resolving this docket" along with its other tasks. 
Before the long-awaited Report and Order sees the light of day, the Wireless Bureau staff first must digest the comments.  Then, the staff will circulate its recommendations to the Commissioners.  The Commissioners and their staff will mull the WTB input and accept a plan that quite likely represents a compromise. 
The ultimate FCC decision will come either at the Commission's monthly meeting or it will be handled ''on circulation''--outside of an actual meeting.  A Public Notice will be issued, and the actual Report and Order will follow.  The bottom line is that Amateur Radio operators will have to wait a few weeks or a few months longer before the restructuring issue is resolved. 
"No one wants this proceeding decided more than we do," the FCC staff member concluded.  To which most hams would shout a resounding "Amen!"    n
League Opposes LA County Experimental Video Proposal
Via ARRL Letter Online, Volume 18, Number 38
The ARRL has asked the FCC to deny an experimental license application by Los Angeles County, California, to develop a public safety video system on the 2.4 GHz band.  The LA County proposal, filed August 9, seeks FCC authorization to develop an experimental system using four 10-MHz channels to transmit video images from helicopter-borne cameras to five remote receiving sites with active tracking antennas.  The signals then would be retransmitted via terrestrial links to the public safety agencies involved.
In its objection, filed September 23 with the FCC, the League called the LA County proposal a "foot in the door" toward gaining a permanent berth in the 2.4 GHz band.  "It is obvious from the experimental proposal that the County wishes to construct the entire system and then simply stay there," the League said.   The ARRL said the FCC should authorize nothing more than a single 10-MHz video channel for a single transmitter aboard a single helicopter, to allow interference studies to be conducted.  
LA County already is licensed for video operations on a single 2.4 GHz channel but says it encounters operational conflicts with broadcasters.  The proposal targets the 2402-2448 MHz band, characterizing it as "underutilized" and asserting that current occupants--including Amateur Radio and industrial, scientific and medical instrumentation--would not suffer harmful interference.  Amateurs have a primary domestic allocation at 2402-2417 MHz. 
The League's objection said LA County's 2.4 GHz monitoring study was "significantly flawed" and "woefully insufficient," and that LA County would be unable to avoid causing "constant, harmful interference" to incumbent users.  Citing ATV repeaters and video links as well as proposed amateur satellite operation, the League said, the 2.4 GHz band enjoys significant use by the LA area Amateur Radio community.  The League said these systems, and those of other amateur users, would be "seriously degraded or displaced" by deployment of the proposed experimental system. 
The decision to grant the proposed experimental license is up to the FCC Office of Engineering and Technology's Experimental Licensing Division.  In making its decision, however, the OET is expected to consult with the Wireless Telecommunications Bureau, which oversees Amateur Radio and the other affected services on 2.4 GHz. 
In a separate, but related, filing on September 1, Los Angeles County and the cities of Los Angeles, Long Beach and Burbank requested a declaratory ruling from the FCC to "clarify its rules to facilitate public safety operations on the 2450-2483 MHz band" and to explore other spectrum allocations "to accommodate the growing demand for public safety airborne operation."    n
Updated May 3, 2000<![if !supportEmptyParas]> <![endif]>