Permission to copy is granted provided that credit is given to "W6VIO Calling"

Contents

Phase 3D Undergoes Vibration Testing

Calendar of Events
| | |
| --- | --- |
| September 8 | General Meeting, Noon - 238-543 |
| September 11 | [Fontana Swap Meet, A. B. Miller HS, Fontana} |
| September 11 | Angeles Crest Century Bicycle Race |
| September 18 | [CMRA Hamfest, Cal Poly, Pomona, 7 AM] |
| September 22 | Board Meeting, Noon - 233-305J |
| September 25 | [TRW Swap meet, Redondo Beach] |
| October 1-3 | ARRL Southwestern Division Convention |
| October 9 | [Fontana Swap Meet, A. B. Miller HS, Fontana} |
| October 13 | General Meeting, Noon - 238-543 |
| October 16 | [CMRA Hamfest, Cal Poly, Pomona, 7 AM] |
| October 27 | Board Meeting, Noon - 233-305J |
| October 30 | [TRW Swap meet, Redondo Beach] |
| November 10 | General Meeting, Noon - 238-543 |
| November 13 | [Fontana Swap Meet, A. B. Miller HS, Fontana} |
| November 20 | [CMRA Hamfest, Cal Poly, Pomona, 7 AM] |
| November 24 | Board Meeting, Noon - 233-305J |
| November 27 | [TRW Swap meet, Redondo Beach] |
Meeting Notice
The next regular JPL Amateur Radio Club will be held on Wednesday, September 8, at noon in Building 238 Room 543.  The Club Board of Directors meetings are held at noon on the fourth Wednesday of each month in 233-305J.  Everyone is welcome at both meetings; bring your lunch.  n
Editor's Note
Due to his busy schedule, President Bob Dengler was unable to file a Prez' Mix column this month.  He promises to get back on schedule next month.
Bob did advise that Riley Hollingsworth, K4ZDH of the FCC's Compliance and Information Bureau, will not be able to appear in La Canada on September 30 due to a schedule conflict.  However Riley will be appearing as the guest speaker at the ARRL Southwestern Division Convention Banquet on Saturday October 2, 1999, aboard the Queen Mary in Long Beach.  Go to this Internet address for more details: http://www.qsl.net/arrlsw/hamcon/ n
August Club Meetings
By Jonathan Cameron, KF6RTA

GENERAL MEETING, August 11 
The secretary was unable to attend the August General meeting and no notes were taken during the meeting.  The following brief summary of the meeting is from Bob Dengler (NO6B):
We had a guest speaker for the first time, so there was very little time allocated to club business.  The only report on the repeater stuff was that the Table Mountain 440 repeater has been moved in frequency from 447.32 MHz to 449.42 MHz.  This is a temporary move pending a permanent assignment.  The temporary move was necessary due to an intermodulation problem.  The guest speaker was Mark West, KO6MW of the Crescenta Valley Amateur Radio Club who spoke about the planned multi-club meeting with Riley Hollingsworth.
BOARD OF DIRECTORS MEETING, August 25
Since only two members were present, there was no quorum and no official meeting was held.   n
DX News
By Bob Polansky, N6ET
Just a few quick notes.  The Dentron linear amplifier has been repaired and reinstalled in our Ops trailer.  I used it yesterday to contact a 5N0 (Nigeria) station on 15 meter SSB just prior to going home.  Our new 40-meter 2-element Cushcraft beam has been delivered and putting it together will start this weekend.  We hope to have it on top of our 76-foot tower in about a month.  20, 17, and 15 meters appear in real good shape.  80, 40, 12, and 10 meters still need some help, which they should get as we move into Autumn.  The solar flux is staying above 200 these days, which is great.  My thanks to the 59(9) DX Report for the following specifics:
AUSTRAL ISLANDS - Did you miss this one?  If so, JK1TKE will give you another chance on 80 through 6 meters from 14 through 24 October.
CHAGOS - VQ9QM will commence operations starting 13 September, primarily on CW.  He will operate from Diego Garcia.
GAMBIA - C56/G0SAH plans CW and SSB operations on 80 through 10 meters through 10 September.
MALDIVES - Look for 8Q7SW during September and October.  No specifics were given.
UGANDA - 5X1GS will be active for two years once he moves to Uganda in mid October.  80 through 6 meters is tentatively planned.  Short trips to 5H and 5Z4 are possible.
In addition to these upcoming operations, one only has to turn on his receiver to hear a large collection of DX calls that were very rare even last year.  If you don't have a rig at home, give me a call at x44940 and I'll make an appointment to check you out on the W6VIO club station.   n
High Speed Packet Station Status
By Eric Archer, N6CV
Well friends, it's been a few months since my last report on HS packet activities.  The work on the 180-R6 packet station continues.  We have installed a 12-foot long shelf on which we can place our computers and other electronic hardware.  This shelf allows us to get the many pieces of electronic equipment off of the operating station tables.
We recently had a Cisco router installed (finally!).  Gerry Wash, Jim Szeto and I are in the process of checking it out.  This router is connected outside the JPL firewall and allows us to have a domain name that ends in ampr.org (instead of jpl.nasa.gov).  Working with JPL network services has finally paid off in that they are working with us to maintain this capability.
Gerry has recently activated the 9600 bps radio, currently operating on 439.025 MHz.  I'm currently looking into configuring this radio into a DX packet cluster node, but for right now it's connected to the gateway.
I've also taken possession of some 115 Kbps (902-928 MHz) spread spectrum radios and am in the process of connecting them to the Cisco router.  These radios will allow us to demonstrate high-speed wireless connectivity to the Internet.  I'll keep everyone posted on the progress of this demonstration.  My ultimate goal is to establish a presence on 900 MHz with high data rate, off-the-shelf Part 15 devices. 
I've recently taken possession of a Sum Sparc workstation that we plan to use in a server configuration.  Jim plans to load up the GUI version of Linux for this server too.  We are tentatively starting to meet every Friday at lunch in the 180-R6 shack to do work.  This week Gerry, Jim and I met to configure a PC for Internet access and router testing.  If you want to participate, come by with your lunch and help out.
We also are having a work party once per month on a Saturday, typically the second or third Saturday.  We are always looking for people to help out with the many and various activities. 73 Eric N6CV n
25 Years Ago in:
<![if !vml]><![endif]>

By Bill Wood, W6FXJ
Club trustee Jay Holladay, W6EJJ, put out an urgent request to find the club's Sears 1100 watt gasoline powered generator missing from the W6VIO trailer during a recent property inventory.  In another request for the return of missing stuff Gill Yanow, K6TOS, asked that 12 QST issues missing from the JPL Library collection be returned.
Jay Holladay also requested support from the club in his run for Vice Director of the ARRL Southwestern Division in the fall of 1974.  (For those curious readers, Jay made it!)
Editor Elmer McMillan made a pitch for club members (then 85 in number) to contribute information and articles to the newsletter.  That sounds like a really neat idea, even today!
Check out the club newsletter archive.  The full September 1974 issue can be accessed at the following Internet address: http://www.jplerc.org/radio/calling/1974/sep/sep74.html<![if !supportNestedAnchors]> n
Classified Section
Wanted:
A 1.2GHz Band Unit for a Kenwood TM-742A.  Contact Bill Westphal at 213-633-3121 or wb6ypf@pacbell.net
Your want-ad or article for inclusion in a future issue of W6VIO Calling.  Submit to Bill Wood, W6FXJ, 31094 Hemlock Ave, Barstow, CA 92311; or email w6fxj@earthlink.net
For Sale:
QST 1990-1994 CD-ROM set, new.  $25 (ARRL price $39.95) Skip, W7NWY, 818-354-9674
US Tower (MA40) 40 foot tubular telescoping tower, hinged base, 2 co-ax arms, mast extension, Hy-gain Explorer-14 beam antenna with 40 meter dipole add-on, and Hy-Gain antenna rotator (Ham IV).  Original cost, less tax, was over $2200.  Sell all for $800.  Contact Ron Zenone (W6TUZ) at (626) 914-5585.   
Icom UT-40 Tone Squelch Option Board (CTCSS) for HT models 2GAT, 4GAT, 12GAT, 32AT or for mobiles 228, 448, 901, 1201, 2400 and 2500.  Cost: $80 (AES Catalog)  Sale for $40.  Radio Shack, Rotor/Controller and Cable, 3 years old, never used, have box/papers, like new. Cost: $70+  Sale for $50.  Scott Nolte, N6CUV 818-354-9724 n
<![if !supportEmptyParas]> <![endif]>
JPL ARC Repeaters

Pasadena:

WR6JPL

147.15 MHz

(+)

PL 131.8 Open

WR6JPL

224.08 MHz

(–)

PL  156.7 Open

WR6JPL

224.70 MHz

(–)

Closed Autopatch

WR6JPL

447.65 MHz

(–)

PL 103.5 Open

W6JPL-1

145.09 MHz

<![if !supportEmptyParas]> <![endif]>

Packet Node/BBS

W6JPL-1

223.54 MHz

<![if !supportEmptyParas]> <![endif]>

Packet Node/BBS

Table Mountain:

WR6AZN

145.28 MHz

(–)

PL 131.8 Open

WR6AZN

223.96 MHz

(–)

PL 156.7 Open

WR6AZN

449.42 MHz

(–)

PL 94.8 Open
<![if !supportEmptyParas]> <![endif]>
Pasadena Radio Club Announces Ham Radio Licensing Class
By Phil Barnes-Roberts, KE6PMZ
Intrepid instructor Allen Wolff, KC7O, will be holding our Fall '99 licensing classes for the FCC No-Code Technician class of ham radio license, starting Thursday September 30th.  It runs from 7:00 pm to 9:00 pm sharp, for eight Thursdays until November 18th, when exams will be given starting a bit earlier, at 6:00 pm.  This takes place at the Kaiser Permanente 'Walnut Center' office block, 393 E. Walnut Ave. at Los Robles in Pasadena.  Enter the gated parking off Los Robles, inform the guard of your destination, park and come into the lobby to sign in.
The exam session will be open for any and all elements, including Morse code at all speeds (5, 13, and 20 WPM) administered by our ARRL/VEC volunteer examiner team.
To sign up, call or e-mail:  Allen may be reached at mailto:ajwolff@earthlink.net or at 818-603-5682.  He needs at least 20 candidates to begin the class.  Books may be available through Allen (at a discount, including handout costs) or you may bring your own copy of the 1997 or newer 'Now You're Talking' from ARRL.  The current (red-cover) edition will include the RF Safety discussion and test questions, effective 07/01/97.
Tell a friend, forward this message; bring a young person you know would be interested.  See you on the air! n
ARRL News
ULS For Hams Endures First-Week Jitters
Via the ARRL Letter Online, Volume 18, Number 33
The FCC's Universal Licensing System is up and running for the Amateur Service, although it didn't happen without a few wrinkles and some frustration on the part of hams trying to register or use the system.  At one point on August 16--the first day the ULS was available to hams--no one could access the system, even for registration.  But the downtime lasted less than an hour, according to an FCC spokesperson.  "The system itself has been running smoothly," he said.  The system also was down briefly on Wednesday and Thursday. 
Some hams reported slow response times in accessing the ULS to register or search the existing database information.  Others found themselves confounded by the new system. 
ARRL New England Director Tom Frenaye, K1KI, used the ULS this week to renew his license.  "It wasn't a pleasant experience," he remarked, citing the complexity of configuring the dial-up connection required.  "It's nice to renew on-line, but I'm glad I won't have to do it for another ten years."  A Midwest ham equipped with a cable modem at first had decided he'd rather file a paper application than to take a step backward in technology.  But he managed the dial-up connection and gave the ULS tentative thumbs up.  "It's certainly a snap once you've done it once, but I'm afraid the dial-up aspect will scare off most folks," he said. 
The FCC has disabled the former on-line vanity Form 610V and renewal Form 900 applications and redirected all amateur applicants to the ULS page. 
Even though all amateurs already are in the FCC database as licensees, ULS registration is a must--before filing an application, renewing or modifying a license, or applying for a vanity call sign.  Applications filed through a VEC automatically register the applicant in ULS, as do paper applications mailed to FCC that include the applicant's Social Security Number.  Applications filed on-line by anyone not registered in the ULS will be dismissed.  Registration requires first providing your Social Security Number or other Taxpayer Identification Number, then registering your call sign. 
To register electronically, visit http://www.fcc.gov/wtb/uls/ and click on "TIN/Call Sign Registration."  A paper Form 606 (TIN Registration Form) that can be mailed to the FCC is available at http://www.fcc.gov/formpage.html or from the FCC's Forms Distribution Center, 800-418-FORM (3676).  Paper forms may be faxed (717-338-2693) or mailed to the FCC, 1270 Fairfield Rd, Gettysburg, PA 17325-7245. 
While amateurs can use a Web network connection to register or to search the ULS for individual call signs or application status, applicants must use a toll-free telephone connection to the FCC's Wide Area Network in order to actually file an application on the new ULS Form 605.  Complete connection instructions are on the FCC's ULS home page, http://www.fcc.gov/wtb/uls, under "Connecting to ULS."  Connecting to the ULS requires Netscape 4.5 or higher. 
The ULS phase-in has created a backlog of new amateur applications at Volunteer Examiner Coordinators.  ARRL-VEC Manager Bart Jahnke, W9JJ, said that while the FCC has begun accepting some data from VECs, the quantity allowed to be submitted has been very low--10-20 applications per VEC were accepted the first three days after ULS went into effect for hams.  Not all VECs are set up to file under the new system yet.  "To date, only Monday's data appears to have been successfully processed," Jahnke said at week's end.  "The ARRL-VEC is ready to transmit nearly 70 test sessions containing more than 150 successful applications, once the FCC gives us the green light." 
As a result, applicants for new amateur licenses will have to wait a few more days--perhaps several days--longer before their new call signs are issued by the FCC.  In addition, no vanity call sign applications were processed during the ULS phase-in period last week.  Once the ULS is working as planned, automated processing of electronically filed applications is supposed to occur nightly each business day, but there will be no weekend processing under the ULS. 
The FCC said it expects to tackle the VEC application backlog very soon.  It also said it hoped to have the ZIP file available daily for Web call sign servers and others to access. 
At this time, the ULS is not accepting any club station applications.  Trustees and custodians of club, military recreation, and RACES licenses should continue to use the old Form 610B to file applications for those stations and should not use their personal Social Security Number as the TIN for these licenses.  Club station trustees and applicants should contact ULS Technical Support at 202-414-1250 to obtain an Assigned Taxpayer ID Number for each club license and provide it on the Form 610B. 
The FCC says that anyone who fails to register in the ULS will be unable to receive services from the FCC.  This means the FCC will not process future license grants, upgrades, modifications or renewals for any applicant not registered in the ULS.  The FCC recommends that all amateurs register now, even if they have no immediate need to transact business with the FCC. 
Amateurs having ULS problems or questions should contact the FCC's ULS Technical Support staff at 202-414-1250.   n
Phase 3D Satellite Completes Vibration Testing
Via ARRL Letter Online, Volume 18, Number 34
The Phase 3D team apparently got the "Good Vibrations" it was hoping for when the next-generation Amateur Radio satellite underwent vibration testing earlier this month at NASA's Goddard Space Flight Center. "P3D performed very well in the vibration testing," said AMSAT Phase 3D Lab and Integration Manager Lou McFadin, W5DID. "This is another milestone on P3D's journey to flight."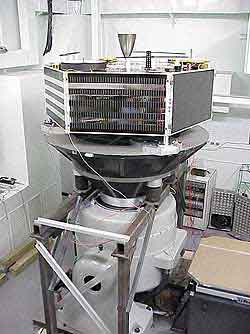 Phase 3D on the vertical "shake table" at Goddard. [Courtesy of Lou McFadin, W5DID]
Now back at the Integration Lab in Orlando, Florida, P3D was to be carefully examined to verify that all systems were still functional and ready for flight, McFadin said.
The Phase 3D satellite arrived at Goddard earlier this month but had to cool its heels while NASA was preoccupied with higher-priority projects including the Hubble Space Telescope repairs and the Earth Orbiter-1 satellite.
The spacecraft was subjected to a preselected vibration scenario in each of the three axes. The testing was intended to simulate the vibrations the satellite will encounter during launch. Last fall, the satellite successfully completed thermal-vacuum testing, enduring nearly a week in a vacuum and alternately warming and freezing in a test chamber at the Orbital Sciences Corporation test facility in Germantown, Maryland.
Once it's checked out at Orlando, P3D will be shipped to the as-yet unnamed launch site. Work continues on preparing the space frame and ground support equipment for shipment once the launch is announced.
For more information and photos, visit http://www.clark.net/pub/tac/p3d.htm and http://www.amsat.org/amsat/sats/phase3d.html   n
Solar Update
Via ARRL Letter Online, Volume 18, Number 34
Solar seer Tad Cook, K7VVV, Seattle, Washington, reports:  All solar indices were up this week, but so were geomagnetic numbers.  This meant that although there was more ionizing radiation from the sun to produce a reflective ionosphere for HF signals, proton activity from flares and coronal holes kept conditions unstable. 
Sunspot number averages for this week were up over 20 points compared to last week, and solar flux averages were up by over 43 points.  The only really quiet day in terms of geomagnetic stability was August 21, when the planetary A index was below 10 and the K index over most periods was only 2.  The worst days were August 20 and 23, when the A index was 33, and the K index was 6. 
Unsettled conditions are forecast for the next few weeks.  There are frequent periods when the A index should be above 10, and around September 12-16 an A index of 20 is predicted.  We have been in a period of rising solar flux, and the values for August 27-29 are forecast at 220, 215 and 215.  Flux values should stay above 200 through the end of August, then drop to below 170 around September 3.  Solar flux should bottom out around 125 on September 9 or 10, then rise up above 170 by September 18.  Of course conditions could get better if new sunspots rotate into view. 
Sunspot numbers for August 19 through 25 were 68, 65, 79, 78, 110, 103 and 127, with a mean of 90.  The 10.7-cm flux was 134.7, 151.6, 161.2, 172.7, 187.5, 202 and 208.4, with a mean of 174.  The estimated planetary A indices were 22, 33, 6, 11, 33, 29 and 8, with a mean of 20.3.  n
Newsletter Deadline:
Friday, October 1 for the October issue of W6VIO Calling.  Your articles, ads, photos, diagrams, letters to the editor, or technical material should be submitted to the editor via email (w6fxj@earthlink.net) or regular mail to: Bill Wood, 31094 Hemlock Ave, Barstow, CA 92311.
Updated May 3, 2000