<![if !supportEmptyParas]> <![endif]>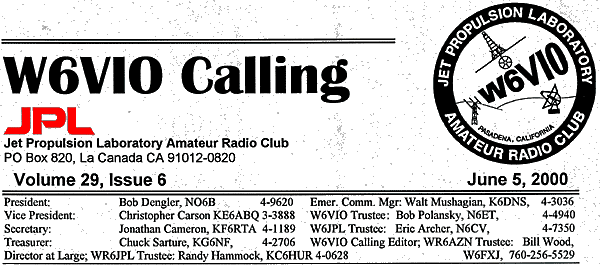 Permission to copy is granted provided that credit is given to "W6VIO Calling."
Contents
| | |
| --- | --- |
| June 10 | [Fontana Swap Meet, A. B. Miller HS, Fontana} |
| June 14 | General Meeting, Noon - 238-543 |
| June 17 | [CMRA Hamfest, Cal Poly, Pomona, 7 AM] |
| June 23-25 | Field Day! Mount Gleason |
| June 24 | [TRW Swap meet, Redondo Beach] |
| June 28 | Board Meeting, Noon - 233-305J |
| July 8 | [Fontana Swap Meet, A. B. Miller HS, Fontana} |
| July 12 | General Meeting, Noon - 238-543 |
| July 15 | [CMRA Hamfest, Cal Poly, Pomona, 7 AM] |
| July 26 | Board Meeting, Noon - 233-305J |
| July 29 | [TRW Swap meet, Redondo Beach] |
| August 9 | General Meeting, Noon - 238-543 |
| August 12 | [Fontana Swap Meet, A. B. Miller HS, Fontana} |
| August 19 | [CMRA Hamfest, Cal Poly, Pomona, 7 AM] |
| August 23 | Board Meeting, Noon - 233-305J |
| August 26 | [TRW Swap meet, Redondo Beach] |
| September 9 | [Fontana Swap Meet, A. B. Miller HS, Fontana} |
Meeting Notice
By Christopher Carson, KE6ABQ
The June General meeting will be held June 14th at noon in 238-543.  Final plans and strategy for this year's Field Day operation will be discussed.  If you haven't signed up yet, don't forget to let Bob Polansky know.  You can get a chance to help "setup in the field" or operate or log contacts for as little or as long as you want.  Come up for an hour or two or spend the whole weekend.  You'll probably see friends you haven't seen in a while.  Pitch a tent, bring a camper, or just stop by – it's going to be much nicer than down in the "flatlands," and the food is good, too.
The June JPLARC Board meeting will be held June 28th in 233-305J.  Everyone is welcome to attend – bring your lunch if you want.    n
Prez' Mix
By Bob Dengler, NO6B
This month I find myself writing a few lines for my column while packing for my vacation in Rochester.  Fortunately I'll be back in time for Field Day here; it wouldn't be much fun trying to work VHF/UHF FM from some dinky hilltop back east.  Thank goodness for our REAL Mountains.
I hope those of you who thought about operating FD with our club this year but haven't yet committed will contact Bob Polansky and let him know that we can count on you.  We need to know soon just who will be available to help setup and operate.  The more people that sign up, the more of a morale boost those who've already signed up will get.  We do need people to help in just about every department, so even if you don't want to operate but might want to spend a couple of hours in the wilderness and eat a home-cooked meal while pitching in some way to make this Field Day the best ever, please contact Bob Polansky.  Thanks!   ¾
May Club Meetings
By Jonathan M. Cameron (KF6RTA)
General Meeting, May 10
The meeting was opened at 12:15 by Chris Carson.  A quorum was not present, but no business was conducted.  Those present included Chris Carson (KE6ABQ), Warren Dowler (KE6LEA), Randy Hammock (KC6HUR), Jay Holladay (W6EJJ), Walt Mushagian (K6DNS), John Repar (WA6LWD), Michael Tope (W4EF), Phil Smith (WA6LQP), and Jonathan Cameron (KF6RTA).
Jay Holladay briefly reviewed various plans for field day.  These details will appear in other articles in this issue of W6VIO Calling.
Chris Carson presented several interesting items.  He started by recommending Anderson "Powerpole" power connectors for all members' usage as well as for all club uses.  These connectors are unisex: in other words there is only one connector style, rather than a male and female connectors. 
Chris recommended that the club purchase a quantity of the connectors, which would be resold to the members at cost.  Randy Hammock suggested making the purchase from Allied Electronics for the best price.  Since there was no quorum for the meeting, Chris will recommend this action at the next Board of Directors meeting.
Chris continued by telling us about the web pages that radio manufacturers are now putting on the Internet.  These web pages often include downloadable copies of the manuals for all their radios as well as collections of frequently asked questions ("FAQ" files) and diagnostic information. 
Chris suggested assembling all the files relevant to your system and burning a reference CD-ROM containing with the files.  On your trips, take along the CD-ROM and your laptop computer to have access to a huge array of information.  Some of the URLs that Chris recommended include:
http://www.ac6v.com/ Alphabetical index by category to just about anything-amateur radio related.
http://www.adi-radio.com/radios/manuals/index.html ADI Radio Manuals
http://alinco.com/pdf.files/  Alinco Radio Manuals
http://www.cushcraft.com/support/tlai.htm  Cushcraft Antenna Manuals
http://www.hallicrafters.org/  Hallicrafters Radio Resources
http://www.nj7p.org/manuals/arc-5/arc-5.html  Service Manual for the WW-II Vintage AN/ARC-5 Command Sets
http://www.icomamerica.com/FAQ/  ICOM Service FAQ's for common problems and their fixes
ftp://216.98.255.24/Amateur/AmateurServiceBulletins/  Kenwood Service Bulletins
ftp://216.98.255.24/Amateur/Instruction%20Manuals/  Kenwood Radio Manuals
http://www.mfjenterprises.com/manuals/  MFJ Products Manuals
http://members.accessus.net/~dwentz/kb9jja/heathkit/matrix/heathkitmatrix_h.html  Heathkit info
http://www.mirageamp.com/mirageamp/manuals/  Mirage Amplifiers
http://www.sgcworld.com/publications/pubs.htm#manuals  SGC Manuals and brochures
http://6mt.com/swan.htm  Schematics and Manuals for Swan Gear
http://www.nostalgiaair.org//nostalgiaair/manuals/  Miscellaneous Vintage Manuals (Crosley, Zenith, Eico, Gonset, Hallicrafters and more...)
http://www.qsl.net/hammarlund/hamrmanu.html  Some Hammarlund Manuals
Jay Holladay informed us that DXpeditions often set up their own web site and upload their log files daily (if they can access the internet).  This means you may be able to check your contacts on-line within hours of making it – and long before the DXpedition returns home!  Jay reminded us that the Internet links provided at http://ac6v.com cover a lot of amateur radio-related topics.
Chris Carson closed the meeting by showing off a small telephone unit that he bought from Fry's Electronics for $20.  The unit is about the size of a small can of sardines and has a phone keypad on one face.  The user plugs in earphones and a mike headset to use the phone.  The unit can be plugged into any standard telephone connector.  You can put it into your toolkit to test telephone drops or for backup purposes.
Board of Directors Meeting, May 17
Those present included Eric Archer (N6CV, via telephone), Jonathan Cameron (KF6RTA), Chris Carson (KE6ABQ), Bob Dengler (NO6B), Randy Hammock (KC6HUR), Jay Holladay (W6EJJ), Walt Mushagian (K6DNS), Bob Polansky (N6ET), Chuck Sarture (KG6NF), And Bill Wood (W6FXJ, via telephone).  A quorum was present; in fact, the entire board was present!
Bob Dengler called the meeting to order at approximately 12:10 and turned it over to field day preparations reports.
Bob Polansky reported that he will get a 14-element antenna for the 220 MHz band for field day.  Eric Archer agreed to order the GP-9 antenna.
Bob Polansky presented detailed field day plans and stepped through them with us.  (Various details of Field Day will be reviewed in other portions of this issue of W6VIO Calling.)  Bob will provide a 12-element beam for 2 meters and Eric will provide a beam for 6 meters.  Bob reported that we will need several laptop computers for contact logging.  Several possibilities were identified and Bob will follow up and make sure we get a decent number of laptops.
Randy Hammock reported that the city of La Canada is taking over the Cerro Negro site.  They are remodeling the location to meet various LA County code requirements.  There will be a new fence, all-new locks and keying, and new alarms.  JPL will still be able to use the site for club repeaters, although access will be difficult during this refurbishment phase.
Bob Polansky reported that they fixed the WARC band antenna and replaced a few parts to get the club station working properly.  He will defer the purchase of a high-power antenna tuner until next year to compensate for some of the extra purchases that were involved in these repairs.
Bob Dengler is interested in getting a TV antenna rotator for the 2-meter beam antenna for field day.
Due to the limited budgetary information available and the uncertainty of some field day expenses, the board decided to postpone adjusting the budget until a later meeting.    ¾
Field Day Volunteers?
By Bob Polansky, N6ET
Plans are progressing reasonably well.  A Class 3A operation is still possible if we can come up with enough operators.  Calls have, for the most part, been made, but many have not yet been responded to.  We still need someone to take on the Public Relations activity.  Any volunteers?  See you on the mountaintop.
DX News
By Bob Polansky, N6ET
Field Day preparations have been taking up most of my time for the past several weeks, so I am relying heavily on both QRZ DX and The 59(9) Report for DX news this month.
BHUTAN -  Both A51TY and A52JS continue operation from here, primarily on 20 and 15 meters.  A major French operation is planned from 1 to 15 September.
EAST TIMOR - Another major operation from here is planned from 6 to 17 October from K7BV and YB9BV.  This will be a 160 through 10 meter, phone and cw operation, with emphasis on the low bands. 
IRAN - EP2AC has been spotted on 18070 kHz at 0100Z, EP2MKO on 21010 kHz at 0345Z.  Both these times could work for 6-land if the solar flux is right.
KINGMAN/PALMYRA - N4BQW/KH5 and /KH5K have been operating from both entities for several weeks now.  More activity can be expected from others as comm installations on the islands are put in place.  A major operation from both places is expected later in the year.  Until then, operation from here will be sporadic.
MONGOLIA - JT1Y should be active now through 6 June.  He should be workable on 40 through 10 meters.
PALESTINE - Look for E4/S51GL later this year.  In the mean time, E4/OK1DTP, and several other E4's are pretty regularly spotted on 20, 15, and 10 meters.
Enjoy! I understand that the sunspot cycle is roughly at its peak now.   ¾
Field Day, 2000
By Jay Holladay, W6EJJ and Bob Polansky, N6ET
It's that time of year again, and the true ham's thoughts turn to - Field Day!  The Year 2000 Field Day effort by the JPL ARC will take place on June 23 through June 25 on Mount Gleason.
We will once again join forces with the Caltech Amateur Radio Club, and this time we plan a significant effort to come up with a competitive score using our W6VIO callsign.  HF conditions should be excellent, and 20 meters is expected be open practically around the clock.  Novice/Tech operators should have a great time on 10 meters with their own station, and this time we WILL have a computer for them.  We have not yet made the final decision on whether we will operate Class 2A or 3A (two or three HF transmitters), but we should be very competitive in 3A if we can sign up a couple more phone operators. 
Although winning a national title will be a real challenge, we should place in one of the top rankings if all goes well.
If you do not feel up to tackling all the FD QRM, please come up and help with setup, computer logging, or what have you.  All hams at JPL and Caltech and their families and friends are invited to visit us at the Field Day site.
As usual, we will use computers and the program CT to log our Field Day QSO's.  CT practice sessions will be held during June.  Call Jay Holladay at 354-7758 for more information, or watch for an announcement on the kilroy mail forwarder.
How You Can Take Part:
Please fill out the sign-up sheet on page 5 of this newsletter and return it to Bob Polansky.  Keep the rest of this issue and bring it with you to Field Day.  Even if you do not return the sign-up sheet, please feel free to visit us at Mt. Gleason - but you'll have to take your chances on operating time if we are not expecting you.
Come to the JPL ARC Meeting on Wednesday, June 14 (238-543 at Noon) to hear more detail on Field Day planning and ask any questions you may have about the operation.  There may be a work party later in June to check out equipment and get things ready to move up the hill.  Also, learn about the training sessions mentioned above.  The latest Field Day planning information will be disseminated via the Club's e-mail list and via the Monday net on the W6JPL repeater.
Field Day activities will kick off on Friday morning, June 23.  The hard-core FD types will take vacation that Friday to assist with the logistics and transportation chores.  We will meet at 8:00 AM at the ham shack trailer by the East Gate to load all of the gear for the trip up the mountain.  Once everything is loaded we will caravan to Mt. Gleason and begin setting up.  Lunch and dinner will be served on Friday while we erect tents and the big antennas.  The Field Day contest starts at 11 AM local (1800 UTC) Saturday and ends at the same time on Sunday.  Our meals should be excellent this year, as we will have our master chef, Manny Caldera, KC6ZSY, in charge again, assisted by Richard Schick and (we hope) John Tallon.  Food will be available for all meals while we are on the mountain, and the Saturday evening dinner is always a special event After the contest is over we will have lunch and disassemble everything, leaving Mt. Gleason as we found it.  Then it's back to JPL to return the Club equipment and home for a well-deserved shower and nap.
What To Bring to Field Day:
Even if you only plan to visit for the afternoon, it is wise to be prepared for anything.  You may enjoy Field Day so much you will want to spend the night.  To get to Mt. Gleason, see the map and directions on the next page.  The road is paved all the way except for the short bypass around the correctional facility and any car can make it to the top.
Meals will be provided by the Club-suggested donation is $3 per person per meal to help defray expenses.  You are responsible for your own place to sleep and enough warm clothing to stay comfortable during the cold nights (Mt. Gleason is at 6532 ft).  Be prepared for weather like the Sahara Desert during the day and the Arctic at night, along with gale force winds, and you should be OK.  Seriously, light thermal underwear and light gloves are often needed if you are operating in the wee hours of Sunday morning.
The following is a suggested checklist for your personal FD preparations: 
Wide-brimmed hat

Long-sleeved shirt

Mosquito repellent

Toothbrush & paste

2 gallons of water per person

Favorite snack food

Sleeping bag

First-aid Kit

Heavy jacket

Undershirt

Thermal underwear

Jeans

Several pairs of socks

Towel

Washcloth

Boots

Money

Tent

220 MHz Handy-talkie

Sunglasses

Sunscreen

Soap

Lip balm

Maps

Flashlight

Chair

AM/FM Radio (for earthquake report, etc.)
Don't forget any needed medications or aspirin and vitamins.  If you do spend the night, it is highly recommended that you bring a tent or camper.  The view is well worth bringing camera and binoculars. 
As far as Amateur Radio gear is concerned, the Clubs will furnish rigs (with some additional loans from the members).  We can always use a spare HF or VHF rig as backup, so bring one along if it's convenient.  Don't forget the rig-compatible power supply and cables.  Bring whatever specialty operating items you wish.  If you have a favorite keyer, headset, or boom mike, please bring it along.  All the HF rigs will use 8-pin mike connector wired for Kenwood.  (We could really use a digital voice "keyer" if anyone has one!)  Also a small tool kit, extra table, antenna wire, battery-operated clock, spare batteries of all types, etc., always seem to come in handy.  In short, anything you might need to be self-sufficient and stay operational under emergency conditions will probably be useful at Field Day.  In fact, that's what the exercise is supposed to be all about.  CU at FD!
Directions to Mount Gleason Field Day Site: 
Take the Foothill Freeway (210) to La Canada.  Exit at Angeles Crest Highway/Route 2.  Go north 9.1 miles on Route 2 up into the San Gabriel Mts.  Turn left at the junction with Angeles Forest Highway (N3).  Continue 3.8 miles on Angeles Forest Highway past Big Tujunga Junction.  Go another 5.9 miles through the tunnel, past Hidden Springs to the Monte Cristo Campground.  Continue another 4.9 miles on Angeles Forest Highway to the Mill Creek Campground at the Mill Creek Summit.  Turn left on Mt. Gleason Road.  (The Mill Creek Campground will be on the right.)  Continue 6.2 miles on Mt. Gleason Road until you reach the Mount Gleason Conversation Camp.  Take dirt road bypass left of the Correction Facility; continue 2.5 miles.  Keep to the right at Y-junction just after Microwave Station.  When you reach the locked gate, call on Simplex for admission.  The road will end at the Summit and our FD site.  Do not block the road at the far end of the Mt. Gleason operating site by parking on it.  Watch out for kids, antenna wires, and loose hams
Alternate Route:  210 Freeway to Interstate 5; North to 14 Freeway; Exit at Angeles Forest Highway take Angeles Forest (N3) South, turn right on Mt. Gleason Road.    n
Classified Section
Wanted:
Your want-ad or article for inclusion in a future issue of W6VIO Calling.  Submit to Bill Wood, W6FXJ, 31094 Hemlock Ave, Barstow, CA 92311; or email w6fxj@earthlink.net
For Sale:
QST 1990-1994 CD-ROM set, new.  $25 (ARRL price $39.95) Skip, W7NWY, 818-354-9674
US Tower (MA40) 40 foot tubular telescoping tower, hinged base, 2 co-ax arms, mast extension, Hy-gain Explorer-14 beam antenna with 40 meter dipole add-on, and Hy-Gain antenna rotator (Ham IV).  Original cost, less tax, was over $2200.  Sell all for $800.  Contact Ron Zenone (W6TUZ) at (626) 914-5585.   
Icom UT-40 Tone Squelch Option Board (CTCSS) for HT models 2GAT, 4GAT, 12GAT, 32AT or for mobiles 228, 448, 901, 1201, 2400 and 2500.  Cost: $80 (AES Catalog)  Sale for $40.  Radio Shack, Rotor/Controller and Cable, 3 years old, never used, have box/papers, like new. Cost: $70+  Sale for $50.  Scott Nolte, N6CUV 818-354-9724 n
Newsletter Deadline:
Friday, June 30 for the July issue of W6VIO Calling.  Your articles, ads, photos, diagrams, letters to the editor, or technical material should be submitted to the editor via email (w6fxj@earthlink.net) or regular mail to: Bill Wood, 31094 Hemlock Ave, Barstow, CA 92311.
JPL ARC Repeaters

Pasadena:

WR6JPL

147.15 MHz

(+)

PL 131.8 Open Shuttle Audio

WR6JPL

224.08 MHz

(–)

PL  156.7 Open

WR6JPL

224.70 MHz

(–)

Closed Autopatch

WR6JPL

445.20 MHz

(–)

PL 103.5 Open

W6JPL-1

145.09 MHz

<![if !supportEmptyParas]> <![endif]>

Packet Node/BBS

W6JPL-1

223.54 MHz

<![if !supportEmptyParas]> <![endif]>

Packet Node/BBS

Table Mountain:

WR6AZN

145.28 MHz

(–)

PL 131.8 Open

WR6AZN

223.96 MHz

(–)

PL 156.7 Open

WR6AZN

447.20 MHz

(–)

PL 94.8 Open