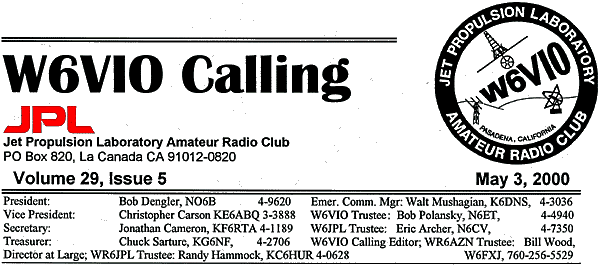 Permission to copy is granted provided that credit is given to "W6VIO Calling."
Contents
Calendar of Events
| | |
| --- | --- |
| May 10 | General Meeting, Noon - 238-543 |
| May 13 | [Fontana Swap Meet, A. B. Miller HS, Fontana} |
| May 20 | [CMRA Hamfest, Cal Poly, Pomona, 7 AM] |
| May 24 | Board Meeting, Noon - 233-305J |
| May 27 | [TRW Swap meet, Redondo Beach] |
| June 10 | [Fontana Swap Meet, A. B. Miller HS, Fontana} |
| June 14 | General Meeting, Noon - 238-543 |
| June 17 | [CMRA Hamfest, Cal Poly, Pomona, 7 AM] |
| June 10 | [Fontana Swap Meet, A. B. Miller HS, Fontana} |
| June 23-25 | Field Day! Mount Gleason |
| June 24 | [TRW Swap meet, Redondo Beach] |
| June 28 | Board Meeting, Noon - 233-305J |
| July 8 | [Fontana Swap Meet, A. B. Miller HS, Fontana} |
| July 12 | General Meeting, Noon - 238-543 |
| July 15 | [CMRA Hamfest, Cal Poly, Pomona, 7 AM] |
| July 26 | Board Meeting, Noon - 233-305J |
| July 29 | [TRW Swap meet, Redondo Beach] |
Meeting Notice
By Christopher Carson, KE6ABQ
The May General meeting will be held May 10th at noon in 238-543. The presentation is still TBD. What would you like to hear? Send ideas to Chris Carson KE6ABQ. Or if you'd like to give a presentation, even better! Next month's going to be last minute Field Day items, but we still need suggestions for the rest of the year, so send those cards and letters and e-mails.
The May JPLARC Board meeting will be held May 24th in 233-305J. Everyone is welcome to attend – bring your lunch if you want.    n
Prez' Mix
By Bob Dengler, NO6B
Preparations for field day have been coming along nicely.  We just received our Yaesu FT-847 multimode rig, which will be used for the VHF/UHF station.  I got a chance to play with one a few weeks ago, and I was surprised at how much attention Yaesu gave to the FM mode on this radio.  They attempted to implement a form of "Micor squelch", where the squelch tail is short for strong signals and long for weak signals.  This helps the squelch stay open for weak, fluttering signals without an annoying long squelch tail on most other signals.  It also has 2 bandwidths for FM, the wider one being similar to your typical FM-only radio, and the narrow mode being a 12.5 kHz channel spacing compliant mode which will help to reject those FD stations that don't know the 2 meter band plan.
Speaking of band plans, check out our repeater list on the web at http://rptrlist.w6jpl.ampr.org for our latest addition: the Southern California 2 meter band plan featuring a list of recognized simplex frequencies.  This is the only place I know of anywhere (web or paper) where you can get a list of 2-meter frequencies that are almost universally recognized as being FM simplex frequencies.  I hope to get this information out to all the local field day participants well in advance of field day so as to minimize the interference generated by stations picking frequencies in between the recognized simplex channels.
In 440 news, it appears that most systems have made the shift from 25 to 20 kHz channel spacing.  However, many systems are either still waiting for new channel assignments as part of this move or have yet to make their prescribed 5 or 10 kHz shifts despite the fact that the agreed-upon completion date for all moves of May 1, 2000 has come and gone.  Certainly everyone on the SCRRBA frequency board has been working overtime since last year to try to meet the deadline, but the workload has obviously been overwhelming.  Perhaps SCRRBA should "open up" a bit more and accept help from those who have volunteered but have been turned down.
Finally, I'm pleased to announce the latest open 440 repeater to hit the airwaves: 449.50 WA6ITC on Sunset Ridge, PL-162.2.  Although it doesn't cover the lab or surrounding area, it does have wide coverage throughout the LA basin including the southern rim of the San Fernando Valley (101 freeway.), Orange County, and the San Gabriel Valley and Inland Empire.  This system is one of four new open pairs that were agreed to be created at the 20 kHz band planning meeting.  Our 445.20 system was the first of these four pairs to be assigned.  73   ¢
April Club Meetings
By Jonathan M. Cameron (KF6RTA)
General Meeting, April 12
Bob Dengler opened the meeting at 12:10.  A quorum was present.  Those present included Chris Carson (KE6ABQ), Bob Dengler (NO6B), Warren Dowler (KE6LEA), Rob Fredrickson (W1EEL), Richard Grumm (W6KWH), Jay Holladay (W6EJJ), Rick McKinney (KA6DAN), Walt Mushagian (K6DNS), Scott Nolte (N6CUV), Jerry Person (KK6TS), Bob Polansky (N6ET), Robert Smith (W6GRV), Phil Smith (WA6LQP), Michael Tope (W4EF), and Jonathan Cameron (KF6RTA).
Bob Polansky (N6ET) gave a report on the status of the shack including the completion of repairs of recent lightening damage.  All three stations are operational; each station can be hooked up to any of three hardlines going up the hill to the various available antennas.
Bob Polansky gave a detailed report on the preparations and planning for the upcoming field day.  Everyone is encouraged to participate enthusiastically, so that we can make a new contest record in our class!   Bob needs help in a number of areas to prepare for field day, so please contact him if you are willing to help.   Bob also reminded us that we will be using the logging program "ct" for field day logging at all stations (hopefully).  He encouraged everyone to learn the program.  Jay Holladay indicated that some training for the logging program will be provided in preparation for field day.
After these reports, Scott Nolte played a videotape of news reports of the recent attack of a European couple and their son sailing off of Central America.  Ham operators provided critical assistance to the family for the medical treatment of their injured son and for helping set up medical assistance and transport to the US after the boat arrived at a populated area.  The news reports were very complimentary to the ham operators who helped out in this difficult situation.
Board of Directors Meeting, April 26
There was no quorum for this meeting of the board of directors and no business was conducted.    ¾
DX News
By Bob Polansky, N6ET
With any luck, you have been active on the HF bands the last month and have been working stations from all around the world. 
The 7O operation from Yemen has just concluded.  It was one of those operations that was authorized on the spur of the moment and simply came on the air.  The deserving have been looking forward to legal operation from here for many years.  "Legal" is the key word for this operation.  We hope (pray) that the operation was indeed properly approved such that it will count as "7O" by the ARRL.  Time will tell. 
The JY9QJ, VP6BR, and 7O1YGF operations are now history, but don't despair.  Two Bhutanese operations will be in progress by the time you see this.  If you don't believe me, look in the most recent editions of the 59(9) DX Report and the LIDX Bulletin. 
Now for a few specifics:
BHUTAN - Jim Smith opened on 26 April as A52JS.  Length of his operation is undetermined at this time.  A mega-operation, call sign not yet advertised, will run from 2 May through 12 May.  It will be a 160 through 10-meter operation, phone, CW, and RTTY, with many simultaneous stations active. 
A third operation by a Bhutanese national, A51TY, is also permitted to operate his own station now.   He's primarily a 20-meter operator as I recall from his previous operation. 
Bhutan is in the #2 position on the "Most Wanted List".  Don't miss this opportunity.
EAST TIMOR - 4W6EB, 4W6MM, 4W6GH, and 4W6SP continue to provide QSO's from this new DXCC entity to the needy.  They frequent 20, 17, 15, 12, and 10 meters with a few spots showing on both 40 and 80 meters.
LIBYA - 5A1A shows up frequently on 10, 12, and 15 meters, both phone and CW.  His QSL's are slow in arriving and are expensive to obtain, they require registered mail, but are among the most prized QSL cards you will ever receive.
NEPAL - Several call signs should appear from Nepal from 2 to 9 May on 80 through 10 meters.  They include 9N7s SZ, VJ, IP, and YT.  Phone, CW, and RTTY activity is planned.  W6VIO just had a QSO with yet another 9N this last week.
RODRIGUEZ ISLAND - 3B9FR is frequently reported on 40, 30, 20, and 17 meters CW.  This is yet another prize catch for the active DXer.  Look for him in the early morning hours.
WILLIS ISLAND - From 6 to 16 May, VK9WI will be occupying the airways.  No specifics are available on this one, but with 5 operators, they should be very workable from the West Coast.
Enough for now. 
This article could go on for pages with all of the activity on the bands.  Enjoy while the sunspots are active.     ¾
By Bob Polansky, N6ET
Activity is progressing in preparation for this year's Field Day event.  Don't forget to save the weekend of June 23 through 25 for our Mount Gleason record-breaking attempt. 
We have secured a few volunteers to help with the planning, transportation, setup, and the operation itself, but a number of key activities still need leaders.  I have listed the need below. 
<![if !supportLists]>· <![endif]>Universe Article author
<![if !supportLists]>· <![endif]>Lead the pickup and return of tables and chairs from Von Karman
<![if !supportLists]>· <![endif]>Satellite station planning, installation, and operation
<![if !supportLists]>· <![endif]>Third tower trailer driver
<![if !supportLists]>· <![endif]>Field Day Public Relations lead
<![if !supportLists]>· <![endif]>Operator shift staffing and planning
If you can help, please advise me at x44940.  Without help in all these areas, we will not be successful.  We have the permit, we have the hilltop, we have the chefs, and we have at least some of the operators.  Now, WE NEED YOU!    ¾
Wanted:
Your want-ad or article for inclusion in a future issue of W6VIO Calling.  Submit to Bill Wood, W6FXJ, 31094 Hemlock Ave, Barstow, CA 92311; or email w6fxj@earthlink.net
For Sale:
QST 1990-1994 CD-ROM set, new.  $25 (ARRL price $39.95) Skip, W7NWY, 818-354-9674
US Tower (MA40) 40 foot tubular telescoping tower, hinged base, 2 co-ax arms, mast extension, Hy-gain Explorer-14 beam antenna with 40 meter dipole add-on, and Hy-Gain antenna rotator (Ham IV).  Original cost, less tax, was over $2200.  Sell all for $800.  Contact Ron Zenone (W6TUZ) at (626) 914-5585.   
Icom UT-40 Tone Squelch Option Board (CTCSS) for HT models 2GAT, 4GAT, 12GAT, 32AT or for mobiles 228, 448, 901, 1201, 2400 and 2500.  Cost: $80 (AES Catalog)  Sale for $40.  Radio Shack, Rotor/Controller and Cable, 3 years old, never used, have box/papers, like new. Cost: $70+  Sale for $50.  Scott Nolte, N6CUV 818-354-9724
Kenwood DFK-7C Faceplate extension kit for the TM-742A, TM-642A & V7A. 22 Foot cables. $40.00  Contact Bill Westphal 213-787-9991 wb6ypf@pacbell.net   n
Newsletter Deadline:
Friday, June 2 for the June issue of W6VIO Calling.  Your articles, ads, photos, diagrams, letters to the editor, or technical material should be submitted to the editor via email (w6fxj@earthlink.net) or regular mail to: Bill Wood, 31094 Hemlock Ave, Barstow, CA 92311.
<![if !supportEmptyParas]> <![endif]>
JPL ARC Repeaters

Pasadena:

WR6JPL

147.15 MHz

(+)

PL 131.8 Open Shuttle Audio

WR6JPL

224.08 MHz

(–)

PL  156.7 Open

WR6JPL

224.70 MHz

(–)

Closed Autopatch

WR6JPL

445.20 MHz

(–)

PL 103.5 Open

W6JPL-1

145.09 MHz

<![if !supportEmptyParas]> <![endif]>

Packet Node/BBS

W6JPL-1

223.54 MHz

<![if !supportEmptyParas]> <![endif]>

Packet Node/BBS

Table Mountain:

WR6AZN

145.28 MHz

(–)

PL 131.8 Open

WR6AZN

223.96 MHz

(–)

PL 156.7 Open

WR6AZN

447.20 MHz

(–)

PL 94.8 Open
ARRL Solar Update
Via ARRL Letter Online Vol. 19, Nr 17 April 28, 2000
Sunspots and solar flux were up this week.  The average sunspot number was up more than 40 points, and average solar flux rose more than 30 points over the past week.  Geomagnetic indices have been mostly quiet, with April 24 the most active day. 
Solar flux is expected to hover around 175 to 185 until April 8, then dip below 170, and rise to around 200 from May 19 through 28.  The planetary A index prediction indicates unsettled conditions for Friday.  The A index should stay quiet from this weekend until May 6 and 7, when it may rise to 15. 
Predicted solar flux for the next five days, Friday through Tuesday is 180, 175, 175, 180 and 180. 
Sunspot numbers for April 13 through 19 were 190, 173, 177, 170, 166, 167 and 179, with a mean of 174.6.  The 10.7 cm flux was 164, 165.2, 163.7, 159, 157.9, 160.4 and 167.7, with a mean of 162.6.  The estimated planetary A indices were 8, 5, 7, 23, 14, 7 and 12, with a mean of 10.9. 
Sunspot numbers for April 20 through 26 were 179, 211, 226, 252, 222, 229 and 197, with a mean of 216.6.  The 10.7-cm flux was 180.6, 187.3, 201.8, 206.1, 205.6, 202.5 and 189.9, with a mean of 196.3.  The estimated planetary A indices were 14, 10, 7, 8, 21, 6 and 4, with a mean of 10.  ¾
Posted May 3, 2000