Permission to copy is granted provided that credit is given to "W6VIO Calling."
Contents
| | |
| --- | --- |
| August 4 | [Fontana Swap Meet, A. B. Miller HS, Fontana] |
| August 8 | General Meeting, Noon - 238-543 |
| August 18 | [CMRA Hamfest, Cal Poly, Pomona, 7 AM] |
| August 22 | Board Meeting, Noon - 233-305J |
| August 25 | [TRW Swap meet, Redondo Beach] |
| September 1 | [Fontana Swap Meet, A. B. Miller HS, Fontana] |
| September 12 | General Meeting, Noon - 238-543 |
| September 15 | [CMRA Hamfest, Cal Poly, Pomona, 7 AM] |
| September 26 | Board Meeting, Noon - 233-305J |
| September 29 | [TRW Swap meet, Redondo Beach] |
| October 6 | [Fontana Swap Meet, A. B. Miller HS, Fontana] |
| October 10 | General Meeting, Noon - 238-543 |
| October 20 | [CMRA Hamfest, Cal Poly, Pomona, 7 AM] |
| October 24 | Board Meeting, Noon - 233-305J |
| October 27 | [TRW Swap meet, Redondo Beach] |
By Christopher Carson, KE6ABQ
The August General Meeting of the JPL Amateur Radio Club will be held in 238-543 on Wednesday, August 8 at 12:00 noon. Topics are yet to be determined. Feel free to bring your lunch to club meetings.
The August Board Meeting is scheduled to be held on August 22 in 233-305J.    n
Editor's Note:
Bob Dengler's heavy schedule of Two-meter Area Spectrum Management Association duties will prevent him from completing his JPL ARC President's column this month.  Barring the press of other outside interests, Bob should be back in this space next issue.
By Jonathan Cameron, KF6RTA
General Meeting, July 11
Those present included: Eric Archer (N6CV), Jonathan Cameron (KF6RTA), Bob Dengler (N6OB), Warren Dowler (KE6LEA), Robb Fredrickson (W1EEL), Randy Hammock (KC6HUR), Jay Holladay (W6EJJ), Merv MacMedan (N6NO), Walt Mushagian (K6DNS), Scott Nolte (K6SN), Jerry Person (KK6TS), Bob Polansky (N6ET), Bob Stiver (KF6PSS), Jan Tarsala (WB6VRN), and John Zitzelberger (W6GL).  The meeting was called to order by Bob Dengler.
Jay Holladay gave a short report on the Field Day operations and led discussion on the topic.  We made roughly 10,500 QSO points.  He is still working on the exact final tally.  In his opinion, the best innovation of this year's Field Day exercise was having only one antenna per tower.  This, along with a new attaching mechanism developed by Marty Woll and Warren Dowler, simplified raising each tower. 
The antennas and towers worked well, reduced interference, gave us clearer signals, and made operations simpler.  There were some difficulties getting the antennas down due to sticking in the lowering mechanisms.  We need to stress safety and proper operation when lowering towers to make sure there are no injuries or equipment damage.  The 15-meter antenna boom broke during the lowering process and will have to be repaired before next year. 
We also had problems with generators.  One had a clogged carburetor due to aging fuel additives.  Before Field Day next year, we will need to perform preventative maintenance on the generators.  Everyone commended Chef Robb Fredrickson on a job well done.  Bob Polansky reported that with the reduced costs of using the JPL tents, we broke even on food expenses for Field Day. 
There was a suggestion that it would be desirable to use larger tents for some of the key stations (if available) so that visitors and observers would have more room to enjoy the operation.  Bob Polansky indicated that JPL has several larger tents that were not used and that three large tents might be available next year.
Bob Dengler led a discussion on the issue of using the 2-meter national simplex frequency of 146.52 MHz.  He expressed hope that the rules for Field Day would allow use of this frequency during the contest.
Bob Polansky reported that the HF shack was partially restored after Field Day.  A PSK31 station has been set up.  Bob is continuing the process of getting various facilities modifications done on the new shack.
Scott Nolte indicated that some of the W6VIO newsletters were late due to problems with off-lab distribution.  He is requesting a replacement for the task of coordinating the off-lab mailing of the newsletters.  This job takes approximately 1 hour per month.  If you can assist with this activity, please contact Scott directly.
Board of Directors Meeting, July 25
The regular Board of Director's meeting was not held.    n
By Bob Polansky, N6ET
Here goes my second attempt at crafting this month's DX News article.  The one I wrote last night appears to have been eaten by my computer! 
It's been a busy month.  The 2001 Field Day is behind us, and the shack is better than half way to being totally restored.  The PSK-31 station that served us well at Field Day has been put in place mid-way along the north side of the W6VIO Ops trailer and its antenna connection now appears on the antenna panel along with its brothers from the other HF stations.  Our TS-850S is at the Kenwood shop getting some TLC.  Apparently, coming to Field Day and then not being used was too much for it and it suffered partial cardiac trauma. 
Summertime is in full swing and the HF bands are showing signs of being affected by the typical "summer doldrums".  In spite of that, there are some exciting prospects on the horizon DX-wise.  The following are the ones to look for during the coming month.
BENIN - TY/F???? will excite the world's ham population from 11 through 29 August.  Past operation from here have been relatively easy to contact from California.  Keep an eye out for this group.
CRETE - SV9/I2WIJ should be on the air now through 6 August.  W6VIO needs this one on SSB.
CYPRUS (UK BASE) - ZC4BS continues to make appearances on 15 meters, both phone and CW.  He's been spotted in the morning, noon and evening hours here on the West Coast.  I'm looking for a QSO myself!
KAMPUCHEA - XU7ABR and several other XU calls appear to be active from here.  WARC activity was expected in addition to the usual 20/15/10 meter activity; however, only 20-meter activity has been shown on the spots to date.
MARKET REEF - A number of radio amateurs from Norway plan activity from this relatively rare entity signing OJ0/LA-something.  The call has not yet been specified.  Watch for the pile-ups.
SAINT PIERRE - This East-of-Canada entity has been put on the air by FP/K9WM and other W9 hams.  They plan on being active through 1 August.  Get 'em while they're there.
SAINT VINCENT - For something a bit closer to home, J8PA will be pumping RF into the ether from St. Vincent from 16 to 27 August.
That's all for now.  Keep those rigs powered and build up your DX entity scores while the sunspots are favoring hamdom.   n
By Bill Wood, W6FXJ
President Stan Brokl, K6YYQ, reported that July 1976 was the busiest month in club history.  The club Hot Dog sale netted $260 at the annual JPL picnic.  The club Viking Mars Landing special event using the first three-letter FCC callsign, N6V, has been extremely busy running QSO's with hams desiring the coveted special event QSL and to receive slow-scan Viking images from the surface of Mars!
Jim Lumsden, WA6MYB, detailed the need for additional operators for the Viking Special Event.  The same old iron men are continuing to risk exhaustion, divorce and dismissal from JPL in their heroic efforts to keep N6V on the air.
Jim also noted the popularity of K6YYQ's Viking slow-scan television contacts.  One night Stan worked six countries on SSTV, including Australia, where a postal workers strike was preventing the receipt of Viking photos by newspapers and television stations there.
On July 30, 1976, retired Laboratory Director William Pickering ex-Z2BL, and NBC reporter Roy Neal, K6DUE, visited the N6V operating position at JPL.  "Bill" talked to WB6MXU the Goldstone club station, located at the DSS-14 big dish there.  At the same time, Roy was operating on 20-meters SSTV!
Repeater technical committee members Bob Ackers and Walt Diem appealed for a volunteer to organize and lead the club repeater project due to the press of their Viking support activities.
The full August 1976 issue can be accessed at this Internet address: http://www.jplerc.org/radio/calling/1976/aug/aug76.html See the N6V QSL at http://jplerc.org/radio/archive/viking.htmln
By Bob Polansky, N6ET, and Jay Holladay, W6EJJ
Our Field Day setup started out on a comfortably warm morning on 22 June.  The JPL ARC Club members arrived at the W6VIO trailer to begin loading activities just before 8AM. 
One team started collecting items on the "TO GO" list, while the other team obtained the truck and set out to load tables, chairs, tents, and fire extinguishers.  A few surprises were in store for us.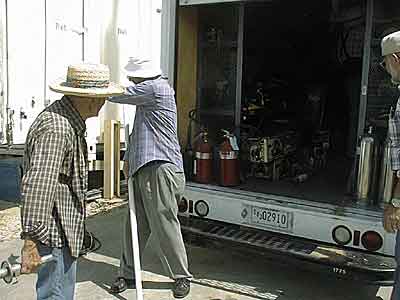 Sam Weaver and Bob Polansky loading the Step Van at JPL   (NO6B Photo)
Half the chairs had to be taken from storage at remote JPL building that we had to locate. The promised fire extinguishers and tents were not ready and had to be removed from long-term storage and prepared for our use.  By 10 AM, these problems had been sorted out and the loading of the JPL equipment was complete. 
The Caltech contingent had their problems as well.  One tower trailer had gotten new tires and when fully loaded the tires were rubbing on the trailer's frame.  A real-time "Warren Dowler fix," corrected this problem.  By 11AM, two hours behind plan, all vehicles were finally headed to the mountaintop. 
<![if !supportEmptyParas]>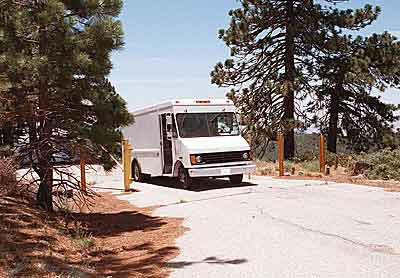 <![endif]>
Arrival at about 12:30PM found the hilltop in full sunlight and hotter than Hades! A shade canopy was immediately set up to allow the crew to survive the heat.  At about 2PM, lunch arrived, was devoured, and equipment setup started.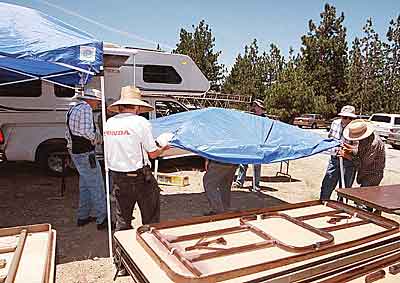 Walt Mushagian, K6DNS, Bob Dengler, NO6B, Mark Sarrel, N7OLI, Bob Blakely, N6MTI, and Sam Weaver, WB6EMO, erect the shelter
Many exciting new things were tried this Field Day.  Most of them worked very well!  Some needed a bit more maturity (to be perfect by next year's event).  Darkness found about half the site set up and ready for the next day's operation. 
<![if !supportEmptyParas]>
<![endif]>
The Club's new pneumatic tower went up effortlessly and did a good job supporting the 40-meter beam.
Morning came too early, but the setup crew was hard at work erecting antennas and solving problems as they occurred.  A little soap and water permitted the two halves of the 20-meter-beam boom to slide into place after several hours of frustration.
Field Day setup crew attaching the 20-meter beam on the "Woll" plate before tilting the tower up
For the first time in CIT/JPL Field Day history, the big beams went up without the assistance of tower climbers, thanks to "The Marty Woll Invention", which permitted the beams to be attached to the towers before they were raised to the vertical position. 
Bill Weber, N6CI, collecting PSK-31 QSO's
At 11AM, most of the stations started racking up contacts.  All were going a short time later.  Our operation was in the 6A category this year to give all an opportunity to make contacts.  We gave the new PSK-31 digital mode its baptism this year and it netted us close to 50 contacts.  With only 20 watts, they even had a QSO with Australia!  It's great when a plan comes together!  <![if !supportEmptyParas]> <![endif]>
The Explorer Post joined us again this year, and it was great to have their help and companionship during the operation.  They earned their keep by making a satellite QSO worth 100 bonus points, not to mention their expert help in taking down, cleaning, and packing the tents after Field Day was over.  For the first time, we had enough people to set up and tear down "our temporary city on the hilltop" in a reasonable length of time.
Back to Making Contacts: 
For the most part, the station proximity didn't cause too many problems, thanks to filtering provided by the CIT Club.  There were two exceptions.  10-meter operation by the Novices and the main Club 10-meter stations caused each other some grief unless they remained separated in frequency with their beams pointed element tip to element tip. 
In addition, it was not possible to operate the PSK station on the same band that a CW station was operating due to frequency proximity.  Perhaps a rig with better receive filters as opposed to the FT-757 we were using for PSK-31 would help next time.   We found after some investigation that the generator in one of the motor homes was quite RF noisy and had to be left off if we were to continue making contacts.
<![if !supportEmptyParas]>
<![endif]>
It was about local midnight when strange things started happening all over the hilltop.  The main generator appeared to be failing.  It was found to be outputting a full 103 volts and it would only do that without any load!  The rigs and one of the computers were going into cardiac arrest. 
The entire system was taken down and the backup generator was quickly put on line.  It also immediately failed.  The third backup, our trusty 2.2 kW Honda generator was pressed into service and the remainder of Field Day was operated at far reduced power levels from all stations permitting us to remain within the power generating capabilities of that generator.  Even at 10 to 50 watts output per station, our operators remained very busy making contacts until Field Day was declared over. 
<![if !supportEmptyParas]>
<![endif]>
Murphy wasn't done with us yet.  During site teardown, the 20-meter beam tower crank got away from the person lowering the tower and it lowered itself (non-destructively) in only about ten seconds.  In addition, slight sticking of the 15-meter tower while it was being lowered resulted in a sudden drop that buckled the 15-meter antenna's boom.  We now have two half 15-meter beams that require reintegration! 
There's more.  On the way down the hill, one of the wires securing the 40-meter beam to the tower trailer broke and the beam went elements first into the roadside while the trailer was moving.  Scratch one beam, almost.  It can and will be rebuilt - all it will take is time.
Finally, we should mention that our "challenges" began long before the Field Day weekend itself. Thanks to the US Forest Service, the permit requested in early February for use of the Mount Gleason site was granted a week before the event.  (They were short-handed as usual.)  The application and the permit were each on the order of 10 pages in length this year, whereas five years ago, it was one page.  We have hopes that next year we will be granted a 5-year permit.
<![if !supportEmptyParas]> <![endif]>
WD6V's Helicopter on display at Mt Gleason

Why do we tell you all of this?  First, Field Day is much more than a contest although this is how we often treat it, due to our competitive nature.  More importantly, Field Day is a serious exercise during which we utilize our abilities to establish communications and live within an emergency operations environment, to eat like kings in the clean mountain air, to enjoy the camaraderie of our friends, and to address and correct problems thrown at us randomly by Mr. Murphy.  This year, we faced an unusually large number of problems.  We worked through those problems and succeeded in spite of them.  We fielded many neat innovations that will make future Field Days even better than this one.  Field Day 2001 was a resounding success in the judgment of the authors and we wish to thank all that contributed to this event for their support. 
The table below shows a band-by band breakdown of the final results.

Band

CW

Digital

Phone

Total

80

123

<![if !supportEmptyParas]> <![endif]>

145

268

40

417

2

123

542

20

757

14

574

1345

15

360

17

412

789

10

16

13

226

255

6

<![if !supportEmptyParas]> <![endif]>

<![if !supportEmptyParas]> <![endif]>

53

53

2

<![if !supportEmptyParas]> <![endif]>

<![if !supportEmptyParas]> <![endif]>

109

109

222

<![if !supportEmptyParas]> <![endif]>

<![if !supportEmptyParas]> <![endif]>

14

14

440

<![if !supportEmptyParas]> <![endif]>

<![if !supportEmptyParas]> <![endif]>

41

41

10N

<![if !supportEmptyParas]> <![endif]>

<![if !supportEmptyParas]> <![endif]>

122

122

Sat

<![if !supportEmptyParas]> <![endif]>

<![if !supportEmptyParas]> <![endif]>

1

1

Total

1673

46

1820

3539

<![if !supportEmptyParas]> <![endif]>

<![if !supportEmptyParas]> <![endif]>

<![if !supportEmptyParas]> <![endif]>

<![if !supportEmptyParas]> <![endif]>

<![if !supportEmptyParas]> <![endif]>

<![if !supportEmptyParas]> <![endif]>

1673 CW QSO's X 4 pts =

6692

<![if !supportEmptyParas]> <![endif]>

46 Digital QSO's X 4 pts =

184

<![if !supportEmptyParas]> <![endif]>

1820 Phone QSO's X 2 pts =

3640

<![if !supportEmptyParas]> <![endif]>

<![if !supportEmptyParas]> <![endif]>

Subtotal

10516

<![if !supportEmptyParas]> <![endif]>

<![if !supportEmptyParas]> <![endif]>

Bonus Points

1300

<![if !supportEmptyParas]> <![endif]>

<![if !supportEmptyParas]> <![endif]>

Total Points

11816
Since we were in Class 3A last year, it's difficult to compare this year's score. We actually had 79 fewer QSO's this year, but 229 more CW + digital contacts, so our total point score is higher this time around.
For the competitive-minded, this score would have placed us second nationally in Class 6A last year. We'll see how we fared this time around when December QST hits the mailbox.
One thing is known: there will be big changes next year. The recently concluded ARRL Board of Directors meeting voted that next year's Field Day will be open to all amateurs in ITU Region 2 - North and South America. That will certainly add some spice to this annual event. Please plan to join us for Field Day 2002!  n
<![if !supportEmptyParas]> <![endif]>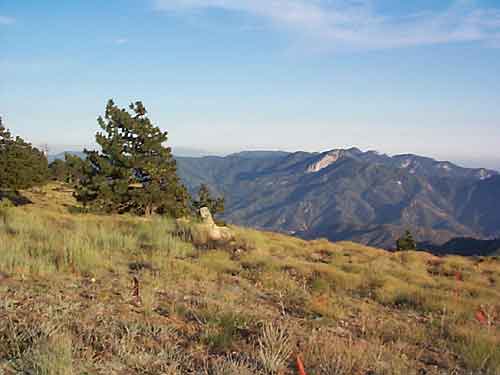 Photo by Dwight Holmes, WA3NPK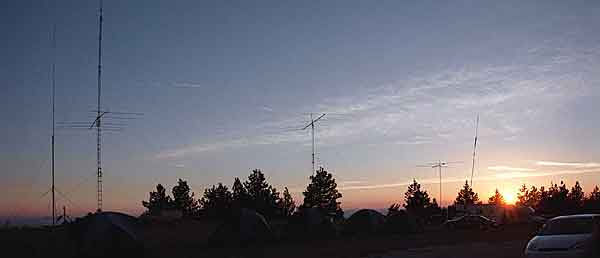 Photo by Bill Wood

By Phil Barnes-Roberts, AD6PQ
Here's the flyer for the Pasadena area Fall No-Code Tech class, folks;  Briefly, starting 20 Sept 2001, eight Thursdays 7-9pm sharp, upstairs at the Sierra Madre firehouse (NOT Kaiser, for a change!)  mailto:kc7o@arrl.net or call 818-603-5682 (voice) to sign up.
This URL, http://www.home.earthlink.net/~ajwolff/class.html works; without the 'www' (as on the cards) didn't (thanks a bunch, Earthlink...!)  Print and distribute flyers (or forward this message!) as you see fit (far and wide is nice...)
And once again, thanks to our intrepid Herb S. Brier Instructor of the Year, Al Wolff for taking the considerable time and effort to bring the new blood into our ranks!  n
Wanted:
Reliable on-lab person to receive about 40 copies of "W6VIO Calling" each month to address and mail to retired and other off-lab club members.  Job involves applying club supplied adhesive address labels and postage stamps.  Takes only one hour each a month.  Contact Scott Nolte, K6SN, at Ext 4-9724 for details.
Your want-ad or article for inclusion in a future issue of W6VIO Calling.  Submit to Bill Wood, W6FXJ, 31094 Hemlock Ave, Barstow, CA 92311; or email w6fxj@earthlink.net
For Sale:
Kenwood TS-940S base HF radio w/automatic tuner, MC-60 microphone, SP-230 speaker & MFJ 300 watt dummy load.  Asking $850 or trade for FT-100D.  Contact Bob at 909-396-0991 or no6b@rptrlist.w6jpl.ampr.org.
Kenwood TM-G707A 2 meter/440 dual-band mobile (single band receive).  50 W 2 meters/35 W 440, CTCSS decoder modified to eliminate falsing problem common with all G707s & V7As.  Original/only owner, asking $260.  Contact Bob at 909-396-0991 or no6b@rptrlist.w6jpl.ampr.org.
QST 1990-1994 CD-ROM set, new.  $25 (ARRL price $39.95) Skip, W7NWY, 818-354-9674
Icom UT-40 Tone Squelch Option Board (CTCSS) for HT models 2GAT, 4GAT, 12GAT, 32AT or for mobiles 228, 448, 901, 1201, 2400 and 2500.  Cost: $80 (AES Catalog)  Sale for $40.  Radio Shack, Rotor/Controller and Cable, 3 years old, never used, have box/papers, like new. Cost: $70+  Sale for $50.  Scott Nolte, N6CUV 818-354-9724.    n
<![if !supportEmptyParas]> Newsletter Deadline:
Friday, August 24 for the September issue of W6VIO Calling.  Your articles, ads, photos, diagrams, letters to the editor, or technical material should be submitted to the editor via email (w6fxj@earthlink.net) or regular mail to: Bill Wood, 31094 Hemlock Ave, Barstow, CA 92311.