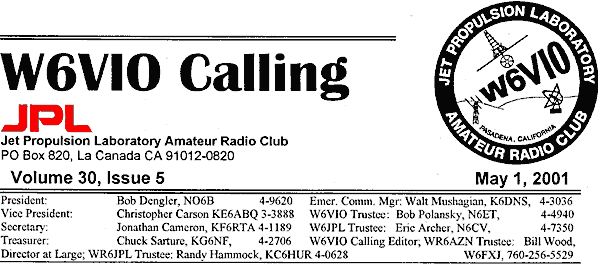 Permission to copy is granted provided that credit is given to "W6VIO Calling."
Contents
50 Years of Hamming Celebration
2001 Field Day Member Input Form
Calendar of Events
| | |
| --- | --- |
| May 5 | Club Field Day Prep Work Party |
| May 5 | [Fontana Swap Meet, A. B. Miller HS, Fontana] |
| May 9 | General Meeting, Noon - 238-543 |
| May 12 | Club Field Day Prep Work Party |
| May 19 | [CMRA Hamfest, Cal Poly, Pomona, 7 AM] |
| May 23 | Board Meeting, Noon - 233-305J |
| May 26 | Club Field Day Prep Work Party |
| May 26 | [TRW Swap meet, Redondo Beach] |
| June 2 | Club Field Day Prep Work Party |
| June 8-10 | [Mojave "Death" Race 250+, Primm, Nevada] |
| June 9 | Club Field Day Prep Work Party |
| June 13 | General Meeting, Noon - 238-543 |
| June 22-24 | 2001 Field Day, Mount Gleason |
| July 7 | [Fontana Swap Meet, A. B. Miller HS, Fontana ] |
| July 11 | General Meeting, Noon - 238-543 |
| July 21 | [CMRA Hamfest, Cal Poly, Pomona, 7 AM] |
| July  25 | Board Meeting, Noon - 233-305J |
| July 28 | [TRW Swap meet, Redondo Beach] |
Meeting Notice
By Christopher Carson, KE6ABQ
The May General Meeting of the JPL Amateur Radio Club will be held on Wednesday May 9th in Bldg. 238-543. Bring your lunch if you like. The topics are Field Day Preparations and New Shack Renovations,
The May Board Meeting is scheduled for Wednesday May 23rd in Bldg. 233-305J. Bring your lunch if you like.   n
Prez' Mix
By Bob Dengler, NO6B
Seems like the months are getting shorter and shorter.  Didn't I write a column last week?
This past month most of my hamming hours were spent dealing with local frequency coordination organizations.  I started the month by chairing my first 2 Meter Area Spectrum Management Association (TASMA) meeting in Walnut.  The meeting went fairly well, but would have been poorly attended had there not been a large turnout from one particular club that is currently seeking coordination for their repeater.  The scenario at the 220 Spectrum Management Association meeting held 2 weeks later in Agoura was very similar.
It's too bad that so many club and individuals only participate in their local frequency coordinating and spectrum managing associations when things are not "going their way".  From experience, I can tell you that frequency coordination and spectrum management simply can't work that way.  TASMA is about to embark on a fact-finding mission via the formation of a new Spectrum Management Committee.  This committee will reshape the 2 meter band plan in Southern California to reflect the change in activity level over the past several years of various operating modes such as packet, repeaters, simplex autopatches, satellite, FM simplex, weak signal, etc.  If you have an interest in any form of operation that uses 2 meters, you need to participate in order to make the recommendations of this committee sound and sensible.  E-mail me at no6b@rptrlist.w6jpl.ampr.org if you'd like to help.
Yesterday I participated in my first public service event outside of the LA Marathon in many years: the Altadena Guild Home Tour.  This is a yearly event consisting of tours of 4 homes all within about a square mile area in eastern Altadena.  When first asked to help by Greg LaBorde, KD6MSM, I asked "Why can't they use the phones in the homes for communication?"  Well the answer to that question, along with "Why can't they use cell phones, NexTel or FRS radios?" became obvious during my half-day assignment.  The wired phones in the homes were inconvenient to use and were not available for use by the staff, and my wife's cell phone barely worked outside the home at which we were stationed - she had trouble dialing and maintaining a connection.  We used 440 MHz simplex, which barely yet reliably covered the distance between the homes, even when operating from inside them.  In comparison to our 1 watt of HT power, a lower-powered FRS radio simply would not have cut it, nor would a network of NexTel phones have been likely to have equal foliage penetration.
So chalk up another public service success story to Amateur Radio: gets through when other commonly available communications resources can't!    n
April Meetings
By Jonathan Cameron, KF6RTA
General Meeting, April 11
The meeting was opened at 12:10 by Bob Dengler.  Those present included Eric Archer (N6CV), Phil Barnes-Roberts (AD6PQ), Jonathan Cameron (KF6RTA), Chris Carson (KE6ABQ), Bob Dengler (NO6B), Warren Dowler (KE6LEA), Randy Hammock (KC6HUR), Walt Mushagian (K6DNS), Scott Nolte (N6SN), Jerry Person (KK6TS), Bob Polansky (N6ET) and Bob Stiver (KF6PSS).  A quorum was present.
Bob Polansky reviewed progress towards getting the new shack set up and detailed upcoming work parties necessary for that effort.  Bob also reported good progress on field day preparations.  He reported that Rob Fredrickson (W1EEL) would lead the food preparation activities but that Rob would need plenty of help.  In particular, Bob appealed for volunteers to help prepare a complete meal.  If you would be willing to help out with food please contact Rob Fredrickson or Bob Polansky.
Bob Dengler reported that the HF antenna problem on the roof of building 180 has been resolved (the paging antenna was moved).  Now the antenna can be rotated in all directions and seems to be working well.
Scott Nolte reminded the group that everyone needs to renew their club memberships and pay dues.
Walt Mushagian encouraged everyone to participate in the Monday noon emergency check-in on JPL ARC's 2m and 220 MHz repeaters.  Walt also reported that the sale of old club equipment was complete and that approximately $500-$600 had been raised for the club through these sales.
Warren Dowler reported on his progress in getting the pneumatic self-raising antenna operational.  He expects to have it operational soon and plans to use it for field day.
Bob Dengler gave an overview of the activities of the TASMA first general meeting under his leadership.
Board of Directors Meeting, April 25
The board of directors meeting was not held.    n
DX News
By Bob Polansky, N6ET
No preamble this month.  Only the "good stuff". 
CHESTERFIELD ISLAND - TX0C is the call sign of this second-ever operation from this new DXCC entity.  They plan operation from 27 April through 2 May on 160 through 6 meters.  They should be relatively easy from here.
AGALEGA - Don't miss 3B6RF, which plans to commence operation on 2 May and continue through 18 May.  They will have big stations and big antennas.  They should be good for lots of new band-countries.
ASCENSION ISLAND - ZD8Z promises operation from this Atlantic RF paradise from 7 through 17 May.  He's promised to try 160meters.  I understand He'll be quite active on all bands.
COCOS KEELING - A group consisting of 3 hams, call signs VK9CXF, VK9CXJ, and VK9CXW plan operation from 28 April through 5 May.  160 through 10-meter operation is planned.  See the latest "The Weekly DX Report" on the shack wall for frequencies.  The Club needs this one on CW.
FALKLANDS - The VP8SDX group has been making its presence known on most bands, primarily a few kHz above the low band edges, and listening up.  They've been quite loud on the West Coast.  Look for them through 8 May.
FERNANDO DE NORONHA - Look for K7BV operating from Fernando from 24 May through 1 June.  No details available at the time of this writing.
MALPELO - HK0JJH/HK0M has been very active and plans to give out QSO's through about 7 May.  This is primarily an SSB operation. He's been spotted on 10 through 40 meters, working mostly split, but some simplex.
ZAIRE - Look for 9Q5BQ through early July, as I understand it.  He's been active from 1400 through 2000Z on 12 and 17 meter CW.
That's all for now.  Enjoy the sunspots while they're here.   n
Mojave "Death" Race 250+
By Randy Hammock, KC6HUR
The JPL Mojave Death Race Teams are looking for a few good communicators to provide communications AND logistics support for the 2001 Mojave Death Race 250+.  When: June 9-10, 2001.  Time: 5:00 AM.  Actually, the teams begin assembling at Stateline (Primm), Nevada on June 8.  What is the Mojave "Death" Race 250+? Well, it makes the Baker-to-Vegas run look like a stroll in the park.  As quoted from their web page http://mojavedeathrace.com/ :
"This is not another pretty 5 or 10 K race on Sunday morning at the beach.  If you and your teammates are not up to an Extreme Team Thing then go to the beach race and collect seashells. 
Most athletes that take on this challenging event will have more war stories and adventures to talk about than they have friends who will listen! We're gonna test you to see if you're a challenger or a wannabe!
If you enter the race and don't survive, don't expect us to come looking for you.  We've heard about a lone telephone booth in the desert someplace.  Find it and call your mommy to come get you! Heck, if you go out in some spectacular fashion you might get an honorable mention here on the web page...  maybe."
But really, this is a very fun activity.  What I get such a kick out of it is, having all the competitors telling me that they felt sorry for me, because I have to be there, providing support for the duration, while they only have to do their legs of the relay then go back to the hotel to rest, play or whatever.  OK, I do have to put up with a bit of sleep depravation, drive hundreds of miles, shuttling runners, bikers, bikes and such around on a tight schedule.  And since I'm one of the RV support vehicles, I get to prepare meals and snacks for the other participants.  There are few points where I can take a rest as I get to the checkpoint a few hours ahead of time, so I get to take a nap.  The worst thing that happened to me last year was, after two hours of running, my generator conked out, so there was no air conditioning in the camper at the check points.  Still, it was not too bad, even in the 115 degree heat.
Now, what can you do? Since JPL is trying to field 3 teams this year, more than ever, we need people with 440 radios, preferably mobiles because of the distances we have to communicate (sometimes as much as 40 miles). There may be a possibility of using APRS; however, we have never used it in the past (unlike B2V). 
The more communicators and drivers we have, the more rest everyone gets.  Four-wheel drive vehicles are also a plus as there are a few places where the road gets sandy, rough or close to nonexistent.  Personally, I've never had to use 4WD but some others have.  Oh yes, air conditioning is also a great plus.  Bicycle racks are very much needed as well.  Except for the 440 radio requirement, don't let the rest of the requirements stop you.  Many of the participants will have their vehicles there but need communicator support.
Contact me: Randy Hammock KC6HUR rhammock@sierra.jpl.nasa.gov for more information or to sign up.
OOPS! I almost forgot, we are not required to pay any entry fees, get a neat T-shirt, and they will reimburse our fuel costs (or they have in the past).   n
Callsign License Plates
By Bruce Nolte, N1BN
Call plates, what are they, where do they come from?  Once we get our first FCC license in hand many of us begin to think about showing pride in our new call sign and the Amateur Radio service by putting State of California call plates on our vehicle.  These plates, in the normal large DMV type face will display the owners FCC call sign (letter prefix, number district and letter suffix) as the official vehicle identification number, and will appear on your DMV registration as such.
Amateur Radio call plates are unique and misunderstood by the public, even the police.  Those of us that sport them on our vehicles have gotten asked all kinds of questions by the unwashed public.  "Don't tell me… don't tell me… let me guess, you are a pilot, or it's a secret code? - Don't tell me… it's your initials, or something?"  The encounter in a parking lot usually goes something like that.
One of my reasons for writing this is the special problem that police have with our call plates.  And actually it is not the fault of the police, but the DMV computer database.  Their database uses a space between the number district and the first letter of the suffix.  But the actual metal license plate looks just like the FCC call sign, no spaces.  Some old call plates do have the space on the plate.  Why?  I have no idea.  
Anyway, I know hams, including myself who have been pulled over by police.  I was asked by LAPD as to where I got that fake license plate.  So much for Amateur Radio PR.  I explained that it was an Amateur Radio plate and that he should try it in his computer again, this time with a space after the 6, back when I was N6TFS.  But a look at my registration showed N6 TFS, with the space between the 6 and the T.  The wonders of computers.
In some states the call plates include the words, "Ham Radio" or "Amateur Radio" or even a lightning bolt symbol.  California takes a lower key approach to the call plate situation, we have the call sign, and that's it!  I am a big booster of public relations for our radio service, but frankly I prefer not to advertise the fact that I might have radio gear in my car.  Some people understand call plates, some see the antenna on my fender, but having the word radio on the plate might be pushing my luck in some parts of the city.
And by the way, our call sign combinations are held in trust for us and are not part of the vanity license plate system.  That means that only licensed Amateur Radio operators may apply for license plates with the typical FCC call sign format.  Go to the DMV web site to check for yourself: http://plates.ca.gov/search/
So let's say I haven't scared you off and you would like to apply for a set of call plates.  Well the DMV is now the only vendor.  In the past you could go to the AAA and do it, no longer.  And I am told that at this point you cannot do it on the web, yet. 
So go to your local DMV office and request Form REG 17A.  If you call the DMV they can mail it out to you to save on trip, but you still have to appear in person, with it filled out.  The DMV requires original and a copy of your ham license, and bring in your car registration.  And the California DMV can grant applications even if your call sign is not in district 6, which is happening more frequently because of the FCC's Vanity Call Sign system.
It requires a flat, one-time, fee of $21.  No special yearly fee, as it is an Amateur Radio plate, not a vanity or environmental plate.  Lost call plates can be replaced for $8 and you can move call plates to another car for $12.  And I believe that you can even get it stamped on an environmental type plate background for an extra $2 per year.  Check with the DMV for all details.  Generally it takes 2 to 3 months for the DMV to process your application and mail out your plates.    n
An Unusual Celebration of 50 Years of Hamming
By Merv MacMedan, N6NO
I know there are many hams who have become eligible for membership in the "half-century wireless club" but in my case I thought it would be appropriate to do something special to celebrate this occasion.
Back in New York when I was around 10 years old just after World War II ended, I took an interest in telephones, doorbells, electricity and radio.  My mother asked a neighbor (who worked as a radio operator for TWA at La Guardia Airport) how to develop this interest and encourage me to learn more.  (She also probably figured it would keep me out of trouble, making her life easier.) 
Harry, the neighbor, was also a ham radio operator (W2LRE at the time) and he suggested getting me interested in a hobby called ham radio.  He said by the time I reached 12 years of age I would be able to comprehend the physics and math.   In addition, the exams required sending and receiving Morse code for a Class B license (the entry level at the time) so some practice was needed. 
My mother got me a Boy Scout buzzer/clicker/flasher training set that ran on flashlight batteries.  It had the Morse alphabet in dots and dashes screened on the case, and she started awkwardly sending me a few letters. 
Soon I didn't want my mother playing with my buzzer any more.  But learning alone was hard work, so I talked my friends into practicing with me, hoping we would all get our licenses.  Progress was slow for all of us and my friends gave up.  I began to think I could never get my speed up to the 13 words per minute needed to pass the test.
But then in 1951, the FCC announced a new license structure that had an entry grade called "Novice Class."  The Novice Class was just the encouragement I needed - a code speed requirement of only 5 words per minute!  I already knew most of the letters, so I began practicing in earnest, and started listening to code practice transmissions from W1AW on an old short wave broadcast radio. 
At first I tried to pick out the simple letters I could recognize (e, a, t, i, o, etc) and let the rest slip by.  Soon I was catching more and more letters of each word and then I started catching whole words.  When I recognized a word, it was a thrill.  Then came sentences, and when the words in the sentence made sense I knew I was copying OK. 
When I felt I was ready I went into Manhattan to the FCC office for my exam just a few months after the new license became available.  With trembling knees in front of the strict old crabby FCC examiner I passed it and got my first call letters - WN2JOA.
During the following two years I upgraded to Technician, General, Advanced and Amateur Extra Class with the call W2JOA, exchanging it for W6IUV when I moved to California in 1966.  In 1977 when my 25 years of hamming made me eligible for a 2-letter call I traded that in for N6NO, which I now hold.
Now let's spring forward to the year 2001.  To celebrate my 50-year anniversary event this year, I decided to find Harry, the guy who originally caused me to get into this hobby.  He too had moved to California when he retired. 
My mother had kept in touch with him but, even though she had died years ago, I was able to locate his address in Manhattan Beach.  I went to see him a few weeks ago.  He had traded in W2LRE for his current call, W6RCX, but he is no longer active because of a degenerative eye condition that has left him nearly blind and unable to read the dials on his equipment. 
I found out he will be 90 years old this year so I was lucky he is still alive! I came prepared to manufacture a QSO, and we made an official QSO-of-record on 220 MHz FM simplex between two handy-talkies.  In all these years, it was our first on-the-air QSO and I was proud to put it in my log book!  It goes without saying that we enjoyed the reunion immensely and it surely brightened his day to revive memories about the last 50 years.
<![if !supportEmptyParas]>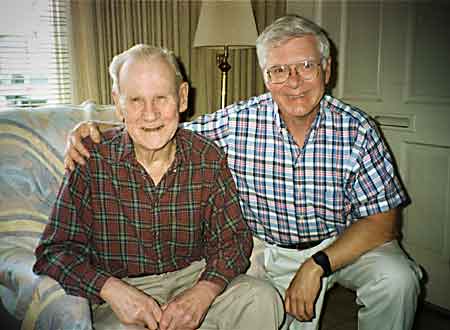 <![endif]>
I'm sure each of you has an Elmer that in some way got you interested in ham radio.  My Elmer's name was Harry, Harry Leatherman.  n
Classified Section
Wanted:
Reliable Person to receive about 40 copies of "W6VIO Calling" each month to address and mail to retired and other off-lab club members.  Job involves applying club supplied adhesive address labels and postage stamps.  Takes only 30 minutes each a month.  Contact Bill Wood, W6FXJ, at 760-256-5529 or w6fxj@earthlink.net for details.
Your want-ad or article for inclusion in a future issue of W6VIO Calling.  Submit to Bill Wood, W6FXJ, 31094 Hemlock Ave, Barstow, CA 92311; or email w6fxj@earthlink.net
For Sale:
Radio Shack (Realistic) PRO-2021 Scanner.  200 Channels.  30-512 MHz.  AC powered Desktop Scanner.  Excellent condition. $75.00 Contact Bill Westphal WB6YPF at 213-787-9991 or wb6ypf@pacbell.net
Uniden Bearcat BC-760XLT Scanner.  100 Channels.  Covers 800 MHz band.  Preprogrammed police, fire, marine, weather.  12 VDC powered Desktop or Mobile.  Comes with AC-DC Converter, Telescopic whip antenna, Suction cup window antenna and mobile mounting hardware.  Excellent condition $100.00 Contact Bill Westphal WB6YPF at 213-787-9991 or wb6ypf@pacbell.net
Cushcraft ARX2B Ringo Ranger II 2 Meter antenna.  Good condition.  $35.00Contact Bill Westphal WB6YPF at 213-787-9991 or wb6ypf@pacbell.net
QST 1990-1994 CD-ROM set, new.  $25 (ARRL price $39.95) Skip, W7NWY, 818-354-9674
Icom UT-40 Tone Squelch Option Board (CTCSS) for HT models 2GAT, 4GAT, 12GAT, 32AT or for mobiles 228, 448, 901, 1201, 2400 and 2500.  Cost: $80 (AES Catalog)  Sale for $40.  Radio Shack, Rotor/Controller and Cable, 3 years old, never used, have box/papers, like new. Cost: $70+  Sale for $50.  Scott Nolte, N6CUV 818-354-9724.    n
K7VVV Solar Update
Via ARRL.org
SEATTLE, WA, Apr 27, 2001--After bottoming out on April 16 at 123.4, solar flux is on the rise.  Average flux values for this week were up more than 50 points, and activity continues to rise with the return of sunspot region 9393. 
Solar flux is expected to peak this weekend around 210, but a rise in geomagnetic activity due to a large M7-class solar flare on April 26 is expected on Sunday.  This flare was from sunspot 9393, which also hurled a full-halo coronal mass ejection.  This sunspot covers about half the area that it did when it was on our side of the sun last month, but it is still quite large.  Last month it produced the largest solar flare ever recorded--which fortunately was not pointed toward Earth. 
On Monday an enormous prominence--a filament of cool dense gas suspended above the sun--extended over the sun's southwestern limb.  You may still be able to view a photo from the Solar and Heliospheric Observatory. 
Bob, N4CD, took a trip to Costa Rica April 4-17 and reported that he had great HF propagation, even as higher latitudes were disrupted.  He worked about 9300 stations on his trip.  Probably the worst days during that period were April 8 and 11-13, when geomagnetic storms raged.  But he worked many stations on 10 meters who said that his was the only signal they heard.  These were probably stations working him on a north-south path.  This isn't because north-south propagation is enhanced during geomagnetic storms, but because when propagation is disrupted these are often the only paths that work for high frequencies.  He said his best DX for QRP was working Larry, WD3P, who was only running 500 mW into a dipole. 
A number of e-mails have arrived lately asking about some of the numbers reported in this bulletin.  It's is probably time to review some bulletin basics. 
Amateur Radio operators who use HF generally like increased sunspots because they correlate with better worldwide radio propagation.  When there are more sunspots, the sun puts out radiation that charges particles in Earth's ionosphere.  Radio waves bounce off (refract from) these charged particles, and the denser these clouds of ions, the better the HF propagation. 
When the ionosphere is denser, higher frequencies will refract rather than passing through to outer space.  This is why every 11 years or so when this activity is higher, 10 meters gets exciting.  Ten meters is at a high enough frequency, right near the top of the HF spectrum, that radio waves propagate very efficiently when the sunspot count is high.  Because of the shorter wavelength, smaller antennas are very efficient on this band, so mobile stations running low power on 10 meters can communicate world wide on a daily basis when the sunspot cycle is at its peak. 
There are also seasonal variations, and 10 meters tends to be best near the spring or fall equinox.  If the ionosphere is not so dense, the maximum usable frequency (MUF) may be below 10 meters, and perhaps only signals with Frequencies as high as 15 meters or below will propagate. 
The sunspot numbers used in this bulletin are calculated by counting the spots on the visible solar surface and also measuring their area. 
Solar flux, another value we report, is measured at an observatory in Penticton, British Columbia, using an antenna pointed toward the sun hooked to a receiver tuned to 2.8 GHz, which is at a wavelength of 10.7 cm.  Energy detected seems to correlate somewhat with sunspots and with the density of the ionosphere. 
Other solar activity of concern to HF operators includes solar flares and coronal holes, which emit protons.  Since the charged ions in the ionosphere are negative, a blast of protons from the sun can neutralize the charge and make the ionosphere less refractive.  These waves of protons can be so intense that they may trigger an event called a geomagnetic storm.  In addition, energy from a solar flare may energize the D-layer of the ionosphere, which absorbs radio waves. 
The Planetary A index relates to geomagnetic stability.  Magnetometers around the world are used to generate a number called the Planetary K index. 
A one-point change in the K index is quite significant.  K index readings below 3 generally mean good stable conditions, and above 3 can mean high absorption of radio waves.  Each point change reflects a big change in conditions. 
Every 24 hours the K index is summarized in a number called the A index.  A one-point change in A value is not very significant.  A full day with the K index at 3 will produce an A index of 15, K of 4 means A of 27, K of 5 means A of 48, and K of 6 means A of 80.  You can find an explanation of these numbers on the web. 
The geomagnetic number reported here is the Planetary A index--a worldwide average based on the K index readings from a number of magnetometers.  The numbers reported on WWV are the Boulder K and A index, measured in Colorado.  Generally, the higher the latitude of the measuring station, the higher the K and A indices reported.  This is because the effects of geomagnetic instability tend to concentrate toward the polar regions of the globe.  You can hear the Boulder K index updated every three hours on WWV or by calling 303-497-3235. 
Check the web for interesting information on Earth's magnetosphere. 
Sunspot numbers for April 19 through 25 were 85, 103, 156, 164, 140, 175 and 182 with a mean of 143.6.  The 10.7 cm flux was 144.5, 180.4, 191.1, 192.5, 196.4, 193.5 and 193.9, with a mean of 184.6.  Estimated planetary A indices were 7, 8, 7, 28, 21, 8 and 7 with a mean of 12.3. 
Amateur solar observer Tad Cook, K7VVV Seattle, Washington, provides this weekly report on solar conditions and propagation.  This report also is available via W1AW every Friday, and an abbreviated version also appears in The ARRL Letter.  Readers may contact the author via k7vvv@arrl.net.    n
Field Day 2001
By Bob Polansky, N6ET
Field Day planning is moving ahead and work is being done by a precious few on behalf of what I believe will be a much larger group that will join us for Field Day itself.  The last several work parties have been supported by relatively few of the Club members and we're getting a bit tired of doing all the work ourselves.  For the April 28 work party, I expected to have a party of ONE.  Folks, we've got to do better.  We need to get commitments from our Club members to help with the planning, and to lead various set up and operating activities on Field Day, if its really going to come together.
PLEASE lend us a hand when you get the next work party call or when you see the announcement on KILROY.  Of the 20 folks I called on the phone trying to get Field Day commitments, I got exactly one return call.  That makes the planning effort darn near impossible.  HEEEEEEELP!  In case you forgot, Field Day weekend is 22 through 24 June.
We did have one work party that was well attended (by Carson, Dowler, Holladay, Mushagian, Person, Polansky, and Woll, not even a JPL ARC Club member).  My heart-felt thanks to these hard workers. 
We built and tested the Club's new 4 element, 10-meter beam, and pronounced it "Field Day ready".  We also fully rebuilt, tuned, and tested the Field Day R-7000 vertical antenna.  It was also pronounced "Field Day ready". 
As if that wasn't enough, the 2 meter antenna that feeds the DX packet system was moved to the top of the stairs about 70 feet West of the W6VIO shack and now feeds the packet system through new coax laid during the work party. 
The system is not fully operational yet, but we believe that the multi path problems, which plagued its operation from the old antenna site, should be significantly reduced.  Again, "good job helpers"!
Finally here is good news for pack rats and other collectors of radio accoutrements.  Last Saturday's work party generated two boxes of valuable radio accessories that will be a welcome (?) addition to any ham shack. 
The boxes are just inside the W6VIO shack door on the left and near the file cabinet.  All club members are welcome to take the various items for their own use.  That way there will be less to carry to the nearby dumpster for permanent reassignment.   n
<![if !supportEmptyParas]>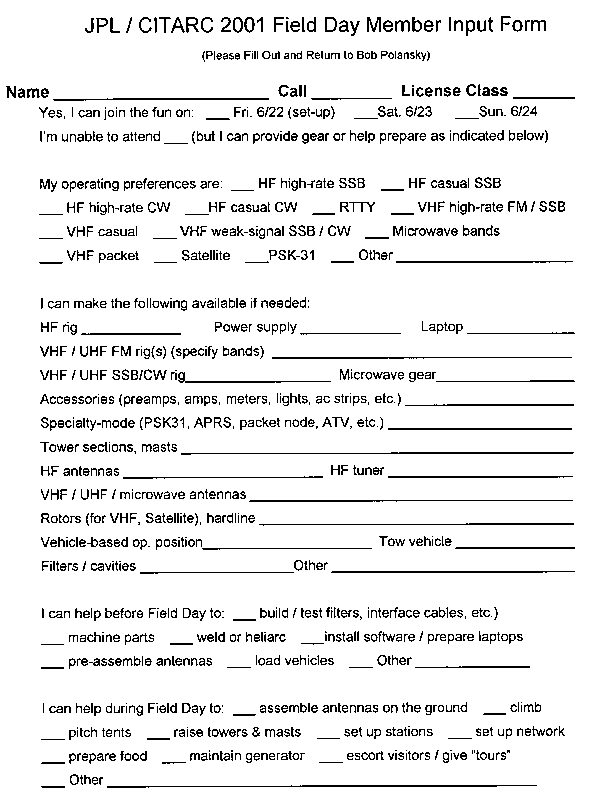 Newsletter Deadline:
Friday, June 1 for the June issue of W6VIO Calling.  Your articles, ads, photos, diagrams, letters to the editor, or technical material should be submitted to the editor via email (w6fxj@earthlink.net) or regular mail to: Bill Wood, 31094 Hemlock Ave, Barstow, CA 92311.
Posted May 1, 2001
<![if !supportEmptyParas]> <![if !vml]>